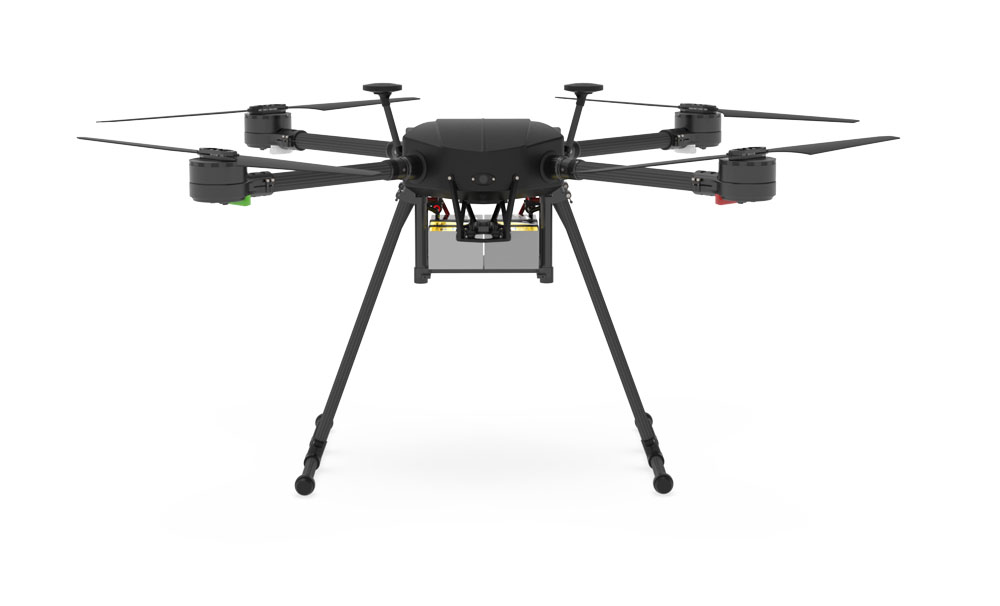 Drone Integrated system for bathymetry
Bathymetry is the measurement of the depth of water in oceans, rivers, or lakes. Standard measurement tool for bathymetry is echo sounding, and the survey process involves the use of a ship, boat or unmanned surface vehicle (USV) as a platform for sensor.
Sometimes, use of boat can be complicated, especially in the case of small or hard to reach rivers and lakes. Use of USV is not feasible in every situation either. Firstly, in most cases USV should be big enough to resist the waves and a big car may be necessary to transport it. Secondly, it is necessary to have a good point of entry to the water for deployment/recovery. Last but not least, it may be impossible to use USV in shallow lakes with lots of seaweed.
An alternative is to fly a drone (UAV) to carry the echo sounder. A drone is compact and easy to transport and deploy. Drones also have high precision of following planned survey lines and can be used in any place where there is at least a small area for take-off and landing near the surveyed water surface.
The integrated drone system for bathymetry includes:
– A commercially available drone like X1000 Pro RTK and DJI M300 or M600
– Echo sounder sensor on a rope
– Radar altimeter to measure precise altitude of the drone over water surface
– On-board computer to control the mission and store geotagged measurements
– Software to control the mission
The integrated system combines a drone with one of the most accurate Echologger and true terrain following with precise laser/sonar altimeter.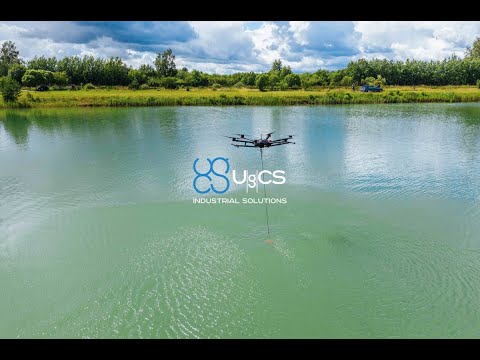 – Maximum depth is 200m
– Minimum measurement range is 50cm.
– 5 mt rugged data cable
– Real-time backscatter data collection along full water columns
– Ultra compact (50mm dia. x 70mm length)
– Ideal for navigation of ROV/AUVs
– Serial interface (RS232, 485, 422)
– Compatible with Hypack, Topcon receiver, HydroPro(Trimble)
– Seacon underwater wet connector in place
– User friendly GUI software provided for instant image update
– Real-time backscatter data collection along full water columns
– True terrain following system with precise laser altimeter allows to fly as low as 1-3m AGL.
Typical applications are:
– Altitude Measurement for Navigation
– Sediment Move Monitoring
– Bridge Scour Monitoring
– Harbor Security
– Wave/Tide Monitoring
One of the main components of the integrated system that enabled efficient survey planning is UgCS – a flight planning software that provides tools for easy creation and calculation of flight paths. To plan a survey mission with UgCS, just mark the area of interest on the map and start an automatic flight mission.
For precise depth measurements (and for the safety of the drone) it is vital to control precise altitude over the water's surface.
We use a high-frequency radar altimeter and a special terrain (surface) following algorithm to keep the altitude of the drone constant during automatic survey missions.
The heart of the integrated system is UgCS SkyHub-a small and powerful onboard computer with special software.
The first function of this onboard computer is to maintain constant altitude of the drone over water surface using data from radar altimeter. Standard DJI drones do not have such function and rely on barometric altimeter for altitude control.
Unfortunately, it is not a precise sensor and altitude drift per single flight can be up to several meters.
With a radar altimeter, on the other hand, the drift of flight altitude is about 5 cm.
The second function of the onboard computer is to store echo sounder measurements in geotagged form.
To geotag data, the UAV's GPR receiver is used.
If the drone is equipped with a RTK/PPK receiver, data points will have coordinates with precision down to centimeters.
Measurements are stored in simple textual CSV format allowing import to variety of software including Excel, and in a format compatible with popular hydrographic software (Hypack, HydroMagic, HydroPro, Echoview etc.).
In addition to depth measurements, water temperature and tilt angles of the sensor are logged.
Data logging begins automatically when the echo sounder is submerged, and stops when the sensor is in the air again.
the software allows to specify some important parameters:
– length of the rope (including the sensor's height) to calculate the actual depth of the sensor under water surface;
– depth of the sensor (to make measurements);
– maximum tilt angle of the sensor – if the angle is outside of a specified range the depth measurement will be ignored;
– distance between the altimeter and the attachment point of the rope (an internal parameter).
In addition, the onboard software sends current depth measurements to the ground station allowing the operator to make sure that everything is functioning as it should and to make manual measurements (when the drone is not on an automatic mission).
FEATURES OF THE INTEGRATED SYSTEM
Compact and simple to use system
EchoDrone 100 is a light and compact magnetometer system. Almost any drone with payload capacity of 1KG can be used. We recommend DJI M600 Pro, M210, M210V2 or medium/large drones with Pixhawk autopilot.
Thanks to 100Hz sampling rate Echodrone 100 can be attached to the drone's legs without detrimental effects. High sampling rate allows filtering out noise from the drone's motors and electronics. It is a huge benefit compared with traditional magnetic sensors on the rope under a drone, especially for inexperienced drone pilots.
Integration with the drone
Power for EchoDrone 100 provided from the drone's main battery eliminates the need to have one more set of batteries in the field.
EchoDrone 200 comes with the Datatool software: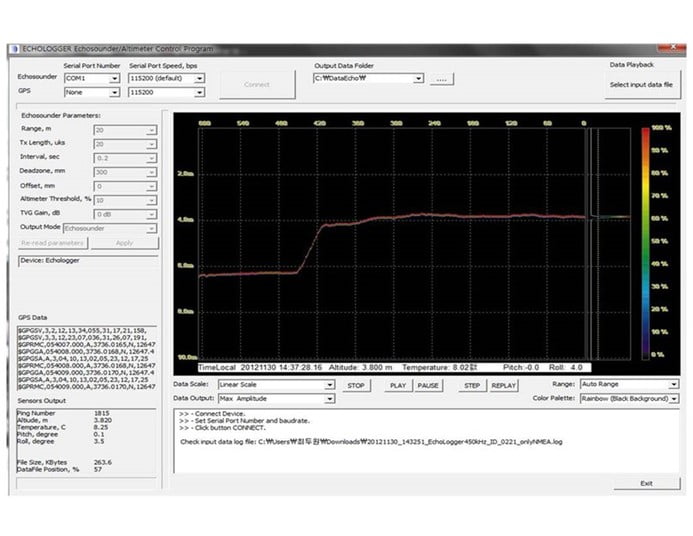 | Acoustic Frequency | 50 kHz / 200 KHz |
| --- | --- |
| Beam width | 27° / 7° Conical (-3dB) (echo mode) |
| Transmit Pulse Width | |
| Transmit Power | |
| TVG Control | |
| Gain Control | |
| Input Signal Attenuator (-20dB) | Activation time 0~300000 µSec |
| Ranges | 1.0 m ~ 200 m (50 kHz), 0.5 m ~ 200 m (200 kHz) |
| Repetition (Ping) Rate | |
| Sampling Rate | Max 100 kHz; adjustable, or auto mode (default) |
| Water Column Resolution | Appx. 7.5 mm @ 100 kHz sampling |
| Altimeter Range Resolution | |
| Temperature sensor Resolution | |
| Tilt sensor integrated | Dual-axis (Roll & Pitch) ±90° , Inclination data resolution 0.1° |
| Digital Output Interface | EU D052: USB 2.0, ECT D052: RS-232, RS-485 (selectable by Pin of Cable Connector) |
| Communication Speed | EU D052: 4,800 ~ 921,600, 3M baud (115,200 baud default), ECT D052: 4800 ~ 921,600 baud (115,200 baud default) |
| Data Output Format | Profile 10bit/12bit resolution ASCII Text , Profile 12bit resolution Binary , Profile 8bit resolution Binary (12bit compressed to 8bit) , Altitude NMEA0183 / Altitude Simple |
| Configuration and Data reading | Echologger Echosounder Control Program (Dual) or any Terminal program |
| Multi node Internetworking (RS485 only) | |
| Connector | EU D052: LTW 12-05PMMS-SH8003, ECT D052S: LTW M12A-08PMMS-SH8002, ECT D052: SEACON MCBH8SS |
| Power supply | EU D052: USB Powered, 2W max, ECT D052: 10~75 VDC, 2W max, Internally isolated |
| Operation Temperature | |
| Operating Depth | EU D052 / ECT D052S: 1m (for surface vehicle), ECT D052C: 100m |
| Housing | |
| Dimensions | Ø74 mm x L90 mm (without connector) |
| Weight | |
| Other features | Use both frequencies simultaneously or separately Compatible with major hydro-graphic softwares (Hypack, HydroMagic, HydroPro, Echoview etc.) GPS integrated data |
Parla con un nostro Esperto
DroneBase ti mette a disposizione un Consulente Esperto
in grado di consigliarti il prodotto più adeguato alle tue necessità
e rispondere a tutte le tue domande.
Inserisci i tuoi dati quì sotto, il nostro consulente ti
ricontatterà al più presto e ti fornirà tutti i dettagli!