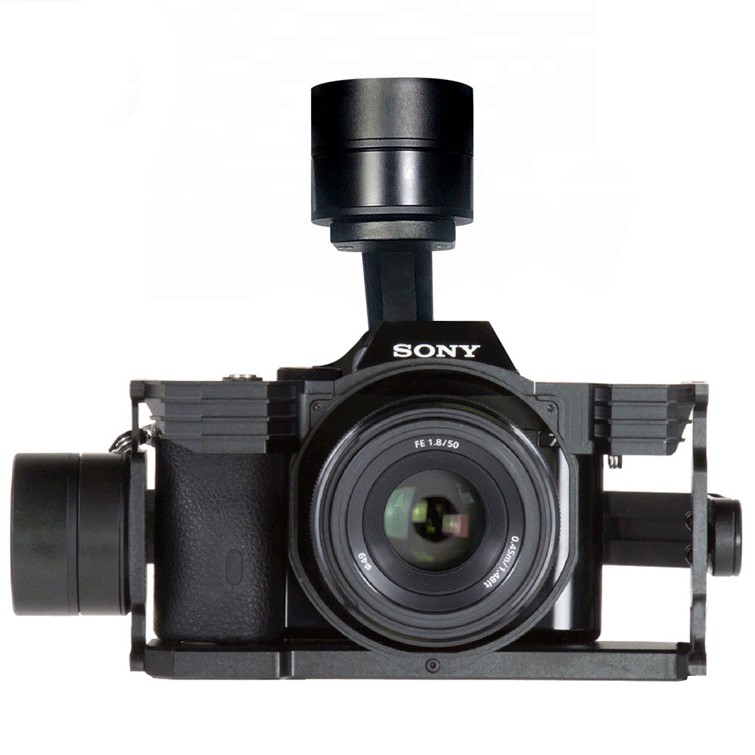 3D-S is a professional 3 axis Gimbal with encoder for Sony Camera like A7XX and a6000 series with Onboard camera control interface and HDMI FullHD video output
3 AXIS GIMBAL FOR SONY A7R AND A6000 SERIES
X3D-S is a professional 3 axis Gimbal with encoder for Sony Camera like A7XX and A6000 series with
Onboard camera controlinterface and HDMI FullHD video output.
X3D-S give the maximum stability, precision, and reliability in aerial filmmaking and photogrammetry,
giving you perfect stability in any flight conditions. Engineered and balanced specifically for the Sony α7 and A6000 series,
this lightweight system works with your current tools seamlessly.
A HDMI-AV/HD video output module enables live streaming and remote control Foto, Video and Zoom. X3D-S is a ready to use
Plug & Play  Gimbal compatible with any Multirotors UAV/UAS
on the market that support PWM and  SBus control.
The MicroHDMI video output could be connectet to any kind of Video Transmitter like DJI Lightbridge, Connex
X3D-S is a gyro-stabilized Gimbal, the stabilizing algorithm with dual IMU provides maximum stability and the extremely precise Brushless Motor with Encoder give you effortless attitude control.
By attaching the USB Multi connector to your Sony Camera,
you can controm many function of your camera directly from
you remote controller or FC.
• 3-Axis gyro-stabilized brushless Gimbal with Encoder
• Horizon computation with Dual IMU 32bit
• Ultimate stability
• Sony A7XX and A6000 series ready
• Supreme image quality with 1080p 30fps HDMI* video Out
• Multi Vision Live Video Output (HDMI and AV)
• PWM and SBus Control
• Sony USB Multi Port control (Photo/Rec/Zoom)
• Sony DC direct Power from Gimbal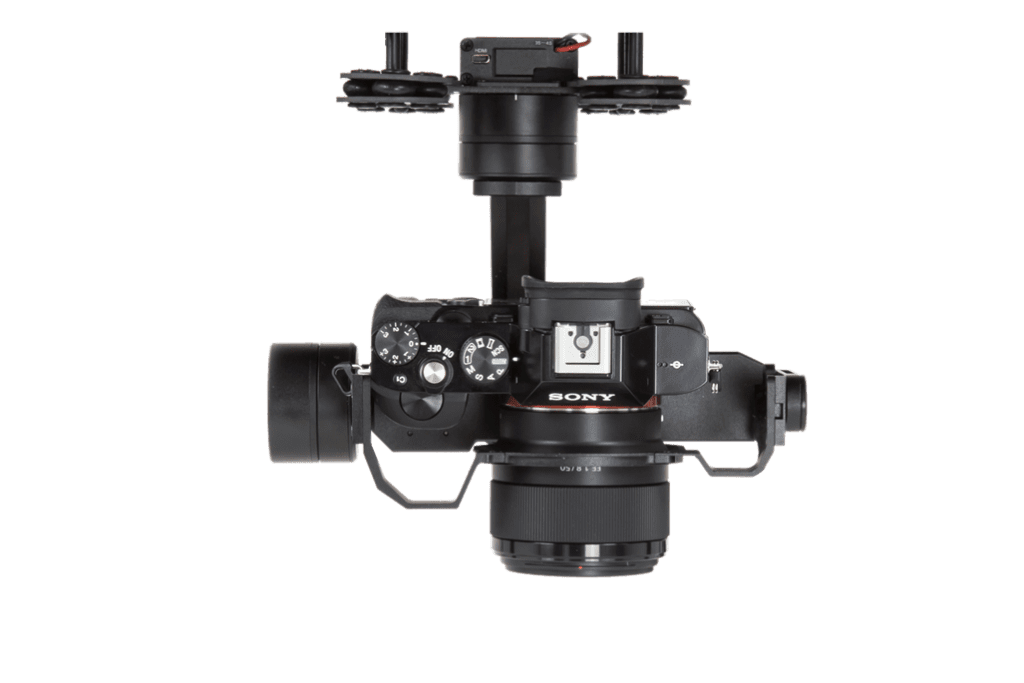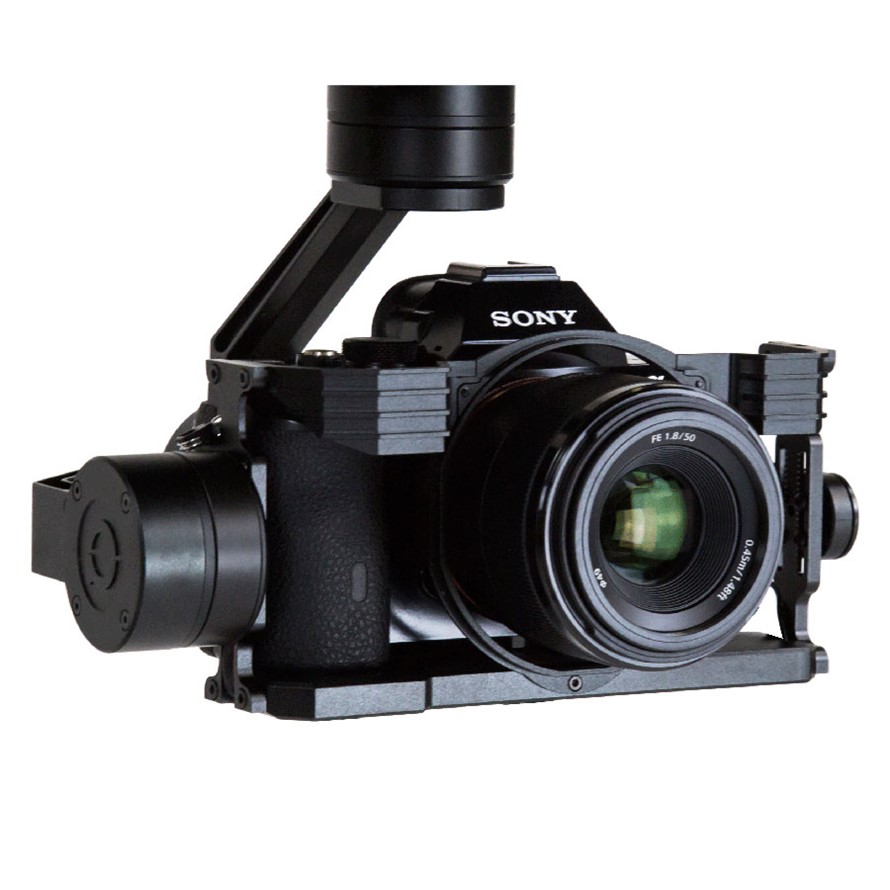 Ready for all multirotors
X3D-S  is ready to use 3 axis Gimbal for Sony Reflexand Mirorless camera compatible with any multirotor drone in the market.
We offer plug&play system with mount adapter for most popular drone in the market and also custom carbon fiber mount adapter.
X3D-S is compatible with any Drone and Flight Controller, it support S-Bus,PWM, and TTL Serial Port control, with 4S-6S DC power input and HDMI Multivision video output compatible with any video transmitter such as Lightbridge 1 & 2, Amimon Connex and any other HDMI transmitter.
I/O Connections & control
X3D-S is ready to use Gimbal fully plug&play with any drones.
You just need 3S-6S power and S-Bus/Pwm/Serial port to controll all the gimba functions:
Fully compatible with Lightbridge and Amimon technology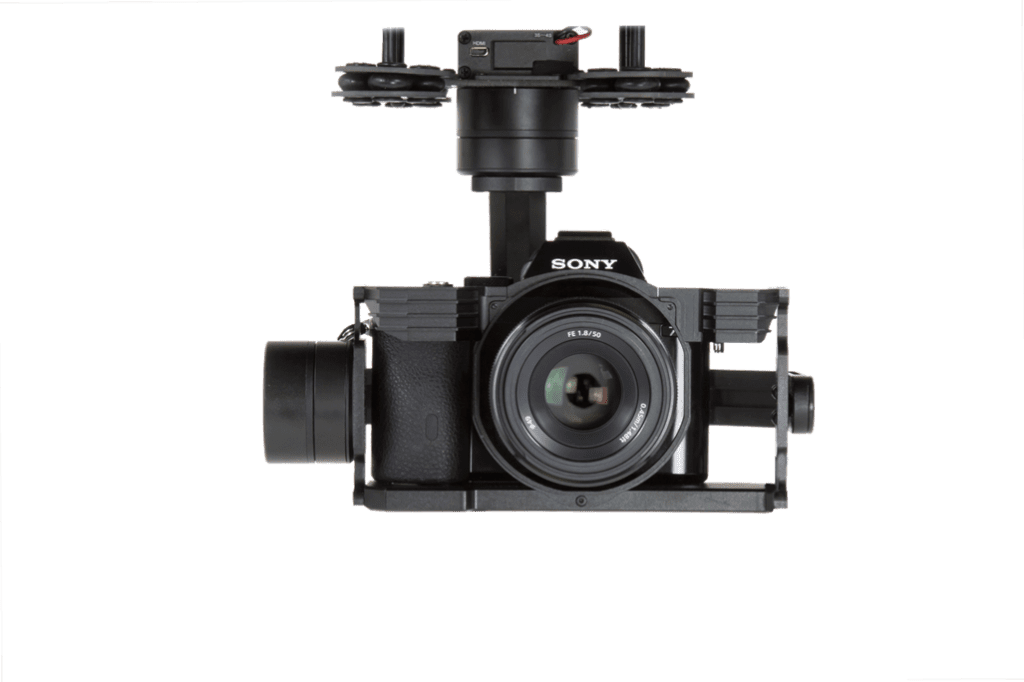 • DC in connector, support 3S-6S
• Maximum power 500mA@12v
• Weight 750g
• S-BUS, PWM and Serial Port ready.
• Serial port: I/O control and GPS data input
• S-Bus control port
• Pitch control port +100°/-100°
• Yaw control port + 180°/-180°
• Gimbal Mode: Follow Mode
Lock Mode
Back to center (forward)
Back to center (downward/Mapping Mode)
• Gimbal Speed (Slow, Medium, Fast)
• Zoom control (only for compatible lenses)
• Picture trigger control port
• Video Rec control Port
• HDMI video output 1080p
• USB port for firmware upgrade and gimbal setup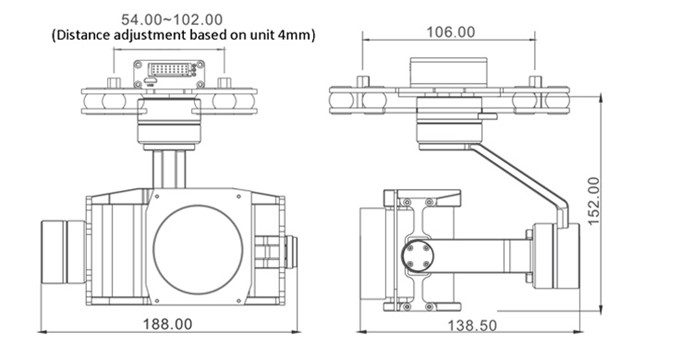 Parla con un nostro Esperto
DroneBase ti mette a disposizione un Consulente Esperto
in grado di consigliarti il prodotto più adeguato alle tue necessità
e rispondere a tutte le tue domande.
Inserisci i tuoi dati quì sotto, il nostro consulente ti
ricontatterà al più presto e ti fornirà tutti i dettagli!