THE NEXT GENERATION TACTICAL DRONE
Designed to meet the most stringent specifications in Military, Industrial and Public Safety.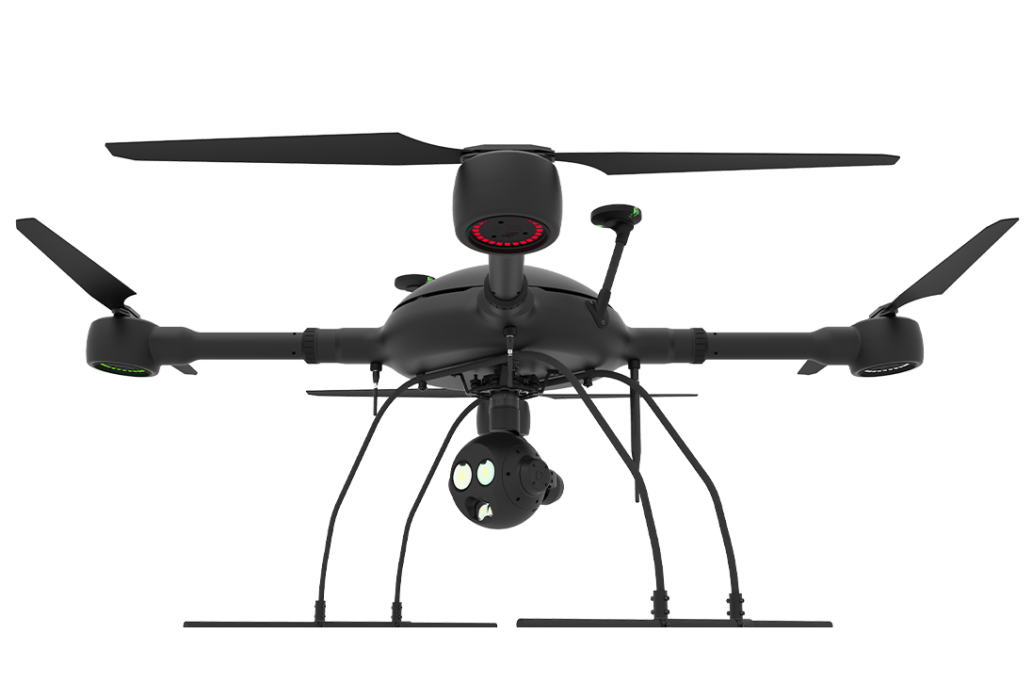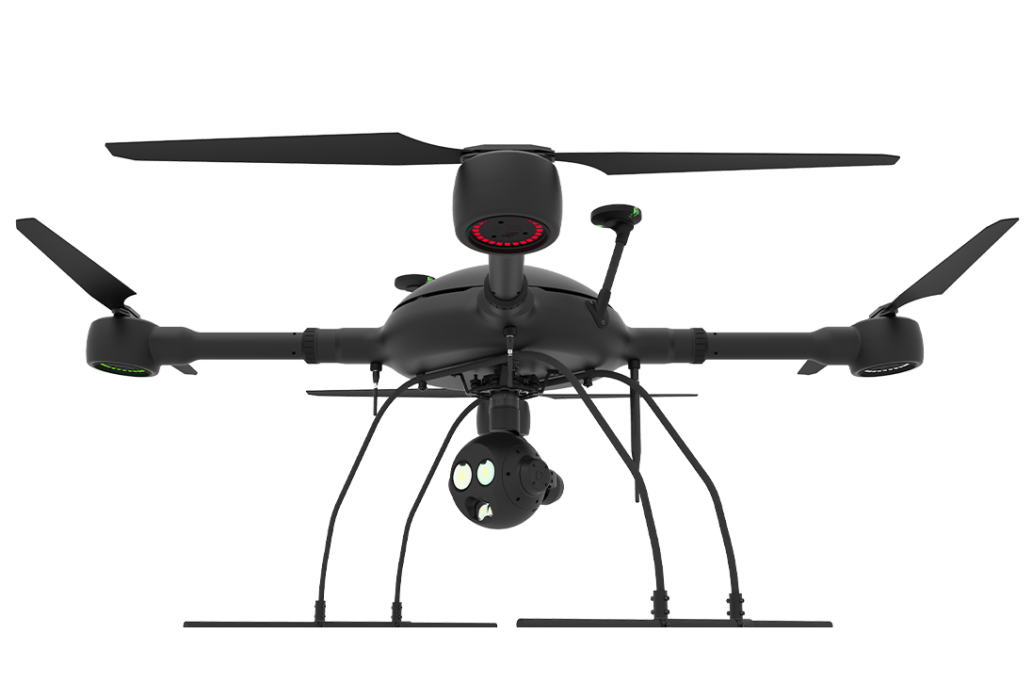 FLY MORE, DO EVERYTHING - IN ANY WEATHER
Why choose eXplorer 1000?
eXplorer 1000 is undoubtedly the best-performing Drone ever, with above-average performance and safety level.
We have fielded a Comprehensive and Modular solution without compromise that enables adaptation in
any time to the most extreme operational needs, setting new standards in a wide range of critical applications.
Modular Carbon Monocoque IP-53 water and dust resistant structure, Ultra-High Performance Engines and Ultra-quiet Propellers make Explorer 1000 capable of flying up to 80′ with a transmission range of 15km in any environmental condition, with winds up to 12 m/s and maximum speed of 65km/h.
Data +
Video Transmission
The latest generation of electronics, open architecture The wide availability of interfaces combined with large payload capacity and unrivaled range make Explorer 1000 a new benchmark for Tactical Drones under 25kg.
Open software, multistandard hardware interface with
CAN, UART, I2C, PWM, S-Bus and API I/O ports enable the creation of integrated intelligent control systems for any connected peripheral, sensor or camera.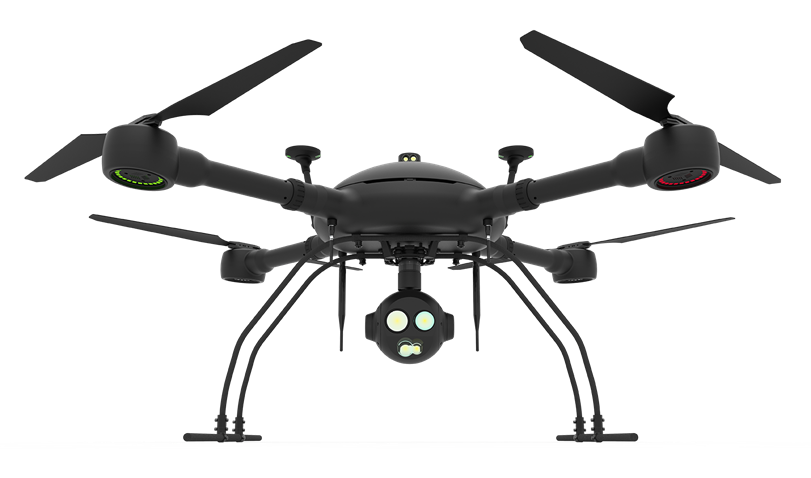 Multirole
Modular and Versatile structure suitable for any application.

High Quality
Completely made of selected composite materials.

Precise
Centimeter accuracy with RTK GNSS systems

Safe
Safe With latest generation redundant electronics

Smart
Precise and reliable autonomous flight with Lidar 360° anti-collision system.

Custom
Qualified technicians at your service for custom projects.
Modular Carbon Monocoque Frame
IP53 Waterproof to Rain and Dust
Quick-connect arms with integrated RGB LEDs
Powerful Brushless Motors with Very High Efficiency
Ultra quiet carbon "Foldable" propellers*
Wide, cushioned, quick-attach trolleys
Reliable with state-of-the-art redundant Flight controller
Accurate with Dual U-Blox M8P GPS Receiver (RTK Ready)
Safe with anti-collision system Lidar 360°@50mt
Redundant power system with dual batteries**
Resistant to Extreme Temperatures -10°/+50°
Weight: 7.5kg in flight order (No payload)
Size: open 95*95*48h, diagonal 120cm | closed 50*50*48h ***
The Smart Controller is designed to maximize
Your flying experience in all environmental conditions
thanks to its small size, integrated touch display
Ultra bright 5.5" structure and waterproof IP53.
Thanks to the dedicated Android operating system, the intelligent controller
Can be customized to give you the best flight experience
as well as allowing third-party apps to be installed for specific needs.
FullHD 5.5″ 1000 cd/m2 Touch Display
13 direct control channels for drone and payload
20km data and video transmission range
2.4ghz ISM
AES 128 encrypted signals
FullHD 1080p H264 / H265 video stream
110ms latency
4G sim slot for integrated internet connectivity
Dual Master-Slave + Hand Hover operator (with additional controller)
Android 9.0 inside
Up to 6 hours of operation with built-in Li-Ion batteries
Tipe-C fast charging (3 hours)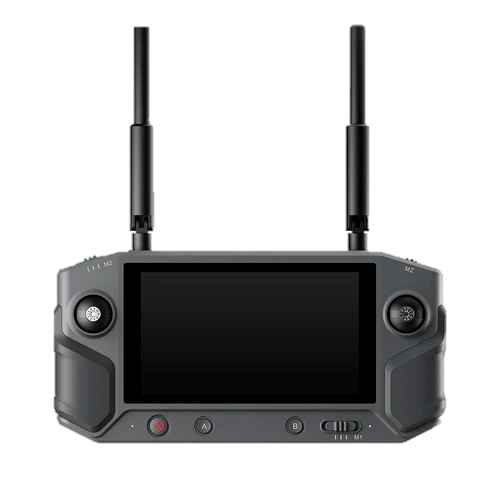 Ground Control station Pro V2 was created for the operational needs most
extreme. Enclosed in a rugged IP67 watertight case, GCS PRO V2 integrates
the most advanced technology available on the market combined with
Unrivaled user ergonomics.
15" monitor and 10" MultiTouch display,Large control sticks ultra
Precise, easily identifiable Keys and Switches facilitate use on the
field in the most extreme conditions thanks in addition
To the use autonomy of 12 hours continuous use.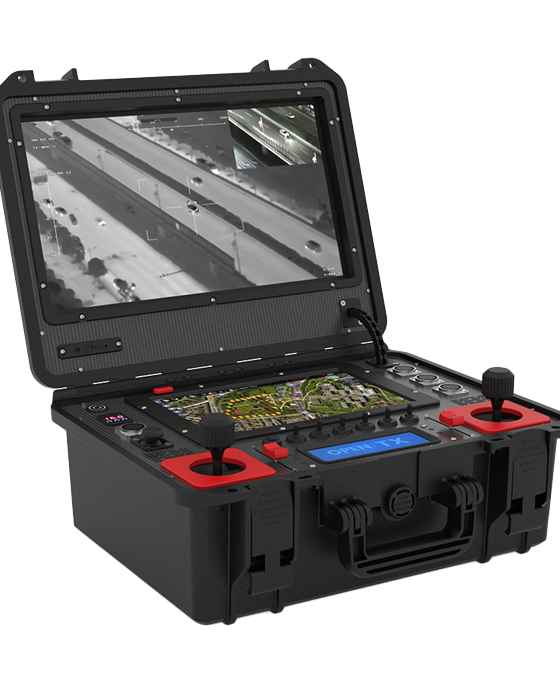 Up to 50km transmission range
Frequencies 2.4ghz, 5ghz, 1.4ghz, custom
AES256 Encrypted Signals
15″ IPS monitor 1000 cd/m2
10″ Multitouch display for drone management
16 direct control channels for gimbals and sensors
4-axis control joystick
FullHD 1080p H264/H265 video signal
180ms maximum latency
3G/4G ready with MicroSIM slot (sim not included)
Android 9.0 insideUp to 12 hours of usage time
Fast charging (3 hours)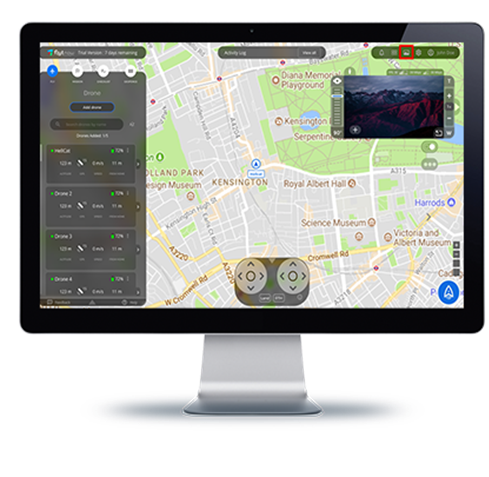 CENTRALIZED REMOTE CONTROL SYSTEM
Imagine having to coordinate video surveillance operations. or Search Missing Persons from a Remote Operation Center.
Command & Control allows you not only to stream HD Video Streaming and Drone Telemetry via 4G/5G connection, but also remote control of Drone and Payload from a remote operation center
Centralized management of drone fleets (max 30 UAVs)
FullHD 1080p video streaming in real time
Map-based monitoring of each drone
Complete flight information with statistics
Remote control of gimbals and sensors
Remote video recording and flight logs
AES265 data encryption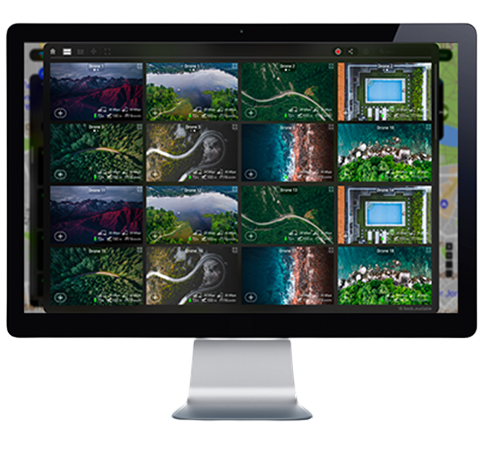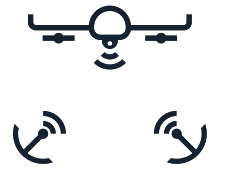 Control one UAV using multiple GCS
Extend mission range, hopping the
control from one GCS to another
during the flight.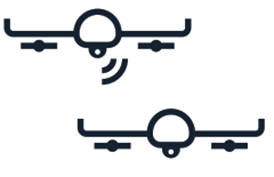 Signal relay from one UAV to other UAVs
Several UAVs may be operated via
one GCS.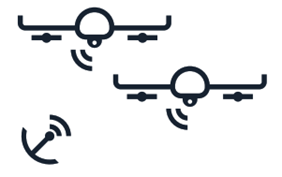 Control of several UAVs from one GCS
One GCS may easily operate several
UAVs in rage in case if operation
needs full cover of the area for
precise date.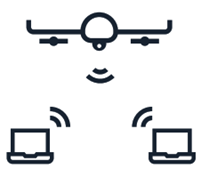 Live streaming to multiple GCS and RVTs
The necessary information is
available for operators, HQ and field
troops at the same time.
Long Range Mimo Mesh Datalink*
The SkyLink200 is designed to be lightweight and easy to carry and install.
Integrated ad-hoc mesh software can quickly communicate With existing fixed MULTI-MIMO stations and mobile vehicle models. To complete a tactical MESH nets.
Equipped with 2x2 MIMO antenna system design
The transmission range can be increased efficiently and,
with its multipath advantages,difficult environmental problems can
Be managed effectively.
The 2x2 MIMO IP radio is designed for remote control and monitoring
Unmanned robots, drones, boats, buses/cars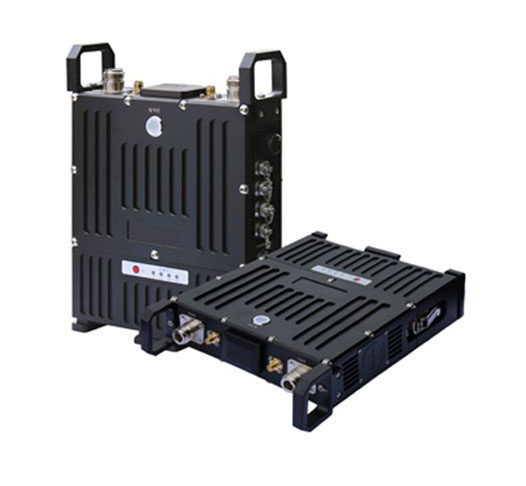 Waveform: Mobile Network MIMO (MN-MIMO
MIMO Technolog: Spatial multiplexing, Space-time coding,Space Diversity,TX /RX beamforming
Channel Bandwidth: 2.5/5/10/20MHz ,40MHz optional
Data Rate: 1-100Mbps(20MHz BW)/180Mbps(40MHz BW) Adaptive,QoS
Modulation Mode: TD-COFDM,BPSK/QPSK/16QAM/64QAM/256QAM Adaptive
RF Output Power: 2Watts×2 (Handheld/Airborne/Module), 10-20 Watts×2 (Backpack/Outdoor/Dual-band Radio)
Single Hop CommunicationDistance: 100-200 KM (visible), 1-30 KM (urban area)
Mode: Point-to-point/Point-to-multipoint/Multipoint-to-multipoint,Automatic relay,Star/Line/Network/Hybrid
Single Hop Delay: Average 10mS(20MHz BW)
Encryption: DES, AES128/256 optional,Chip /TF card encryption customized
Anty-Jamming: Manual spectrum scanning channel selection, Intelligent frequency channelSelection/ frequency hopping
Band: UHF 450-700, S Band 1800-2500, L Band 1000-1500, Lower C Band 4400-5000, MIIT, Upper C Band 5100-6000
What eXplorer 1000 can do
eXplorer 1000 was born from joint research with law enforcement and specialized agencies in Italy and around the World that have
contributed their field experience to help us achieve the highest performance for operations of
VIDEO SURVEILLANCE, BORDER CONTROL, MISSING PERSON SEARCH
The state-of-the-art ISR systems available for Explorer 1000 enable the detection and Identification of People and Vehicles from miles away using high-resolution Thermal and Optical sensors with up to 40X zoom.
The brand new and exclusive HOT SWAP Quick-Mount quick-attach system allows you to switch from one payload to another in a matter of moments without any setup and without having to turn off the drone.
| DRI VALUE | IR 640 50mm | ZOOM 40X |
| --- | --- | --- |
| | | |
| Recognition (Male: 1.8×0.5m) | | |
| Face Identification (Male: 1.8×0.5m) | | |
| | | |
| Recognition (Auto: 4.2×1.8m) | | |
| License Plate Identification (Car: 4.2×1.8m) | | |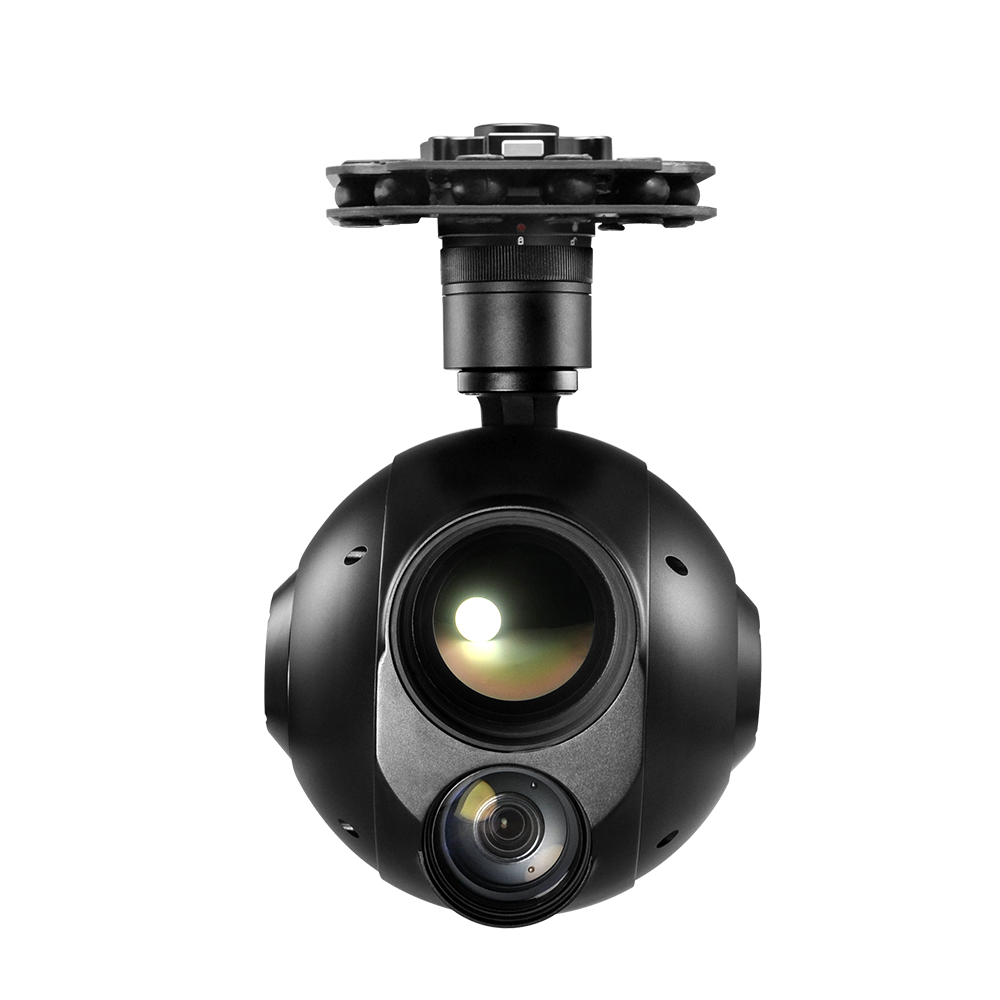 SELECTS THE MOST SUITABLE SENSOR FOR THE TWO NEEDS
Discover the wide range of Industrial Gimbal and Sensors compatible with Explorer 1000.
The Quick-Mount interface and Plug & Play Hub allow rapid payload exchange according to operational needs.
Transform Explorer 1000 to suit your needs in a few moments
without the need for any setup or difficult wiring.
An aerial perspective helps to gain situational awarenesswhile maintaining a safe distance. Explorer 1000 can transmit live multicast video to Ground and to Operations Centers allowing risk operations to be coordinated and informed decisions to be made very quickly.
RGB sensors up to 25mp
4K Video
Optical zoom up to 30x (12x digital)
640p 30fps thermal imaging
Optical lens up to 50mm
Laser Range Finder 4000mt
Distance calculation and target Coordinates
Automatic target tracking
IR+RGB Geotagged images
IR, RGB, and PIP display
RGB, Radiometric and Industrial
Radiometric Thermal Cameras
Multispectral Cameras
RGB cameras up to 120mp
3D Lidar
Multigas Sensors
Radiation Sensors
Georadar
Echosonar
Metaldetector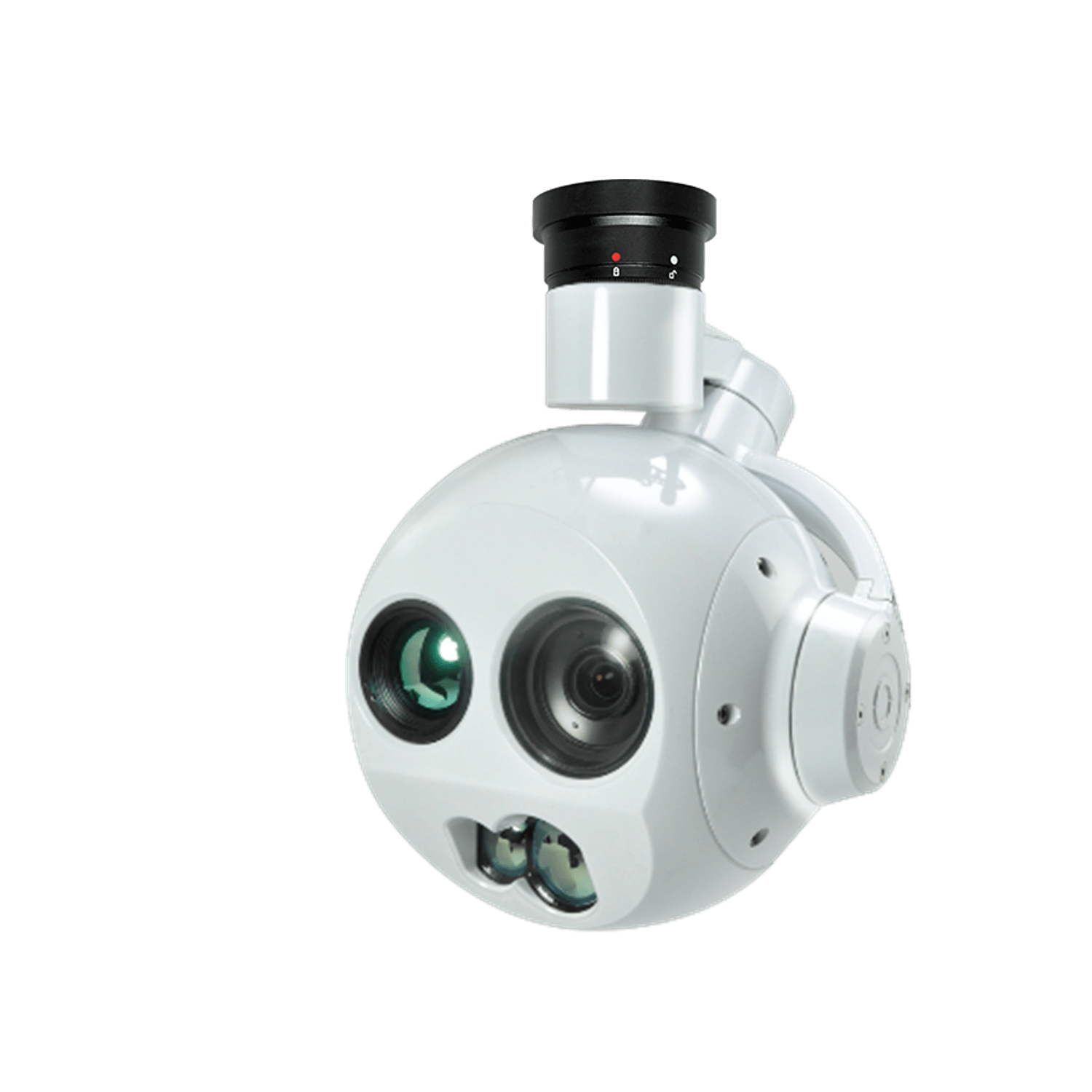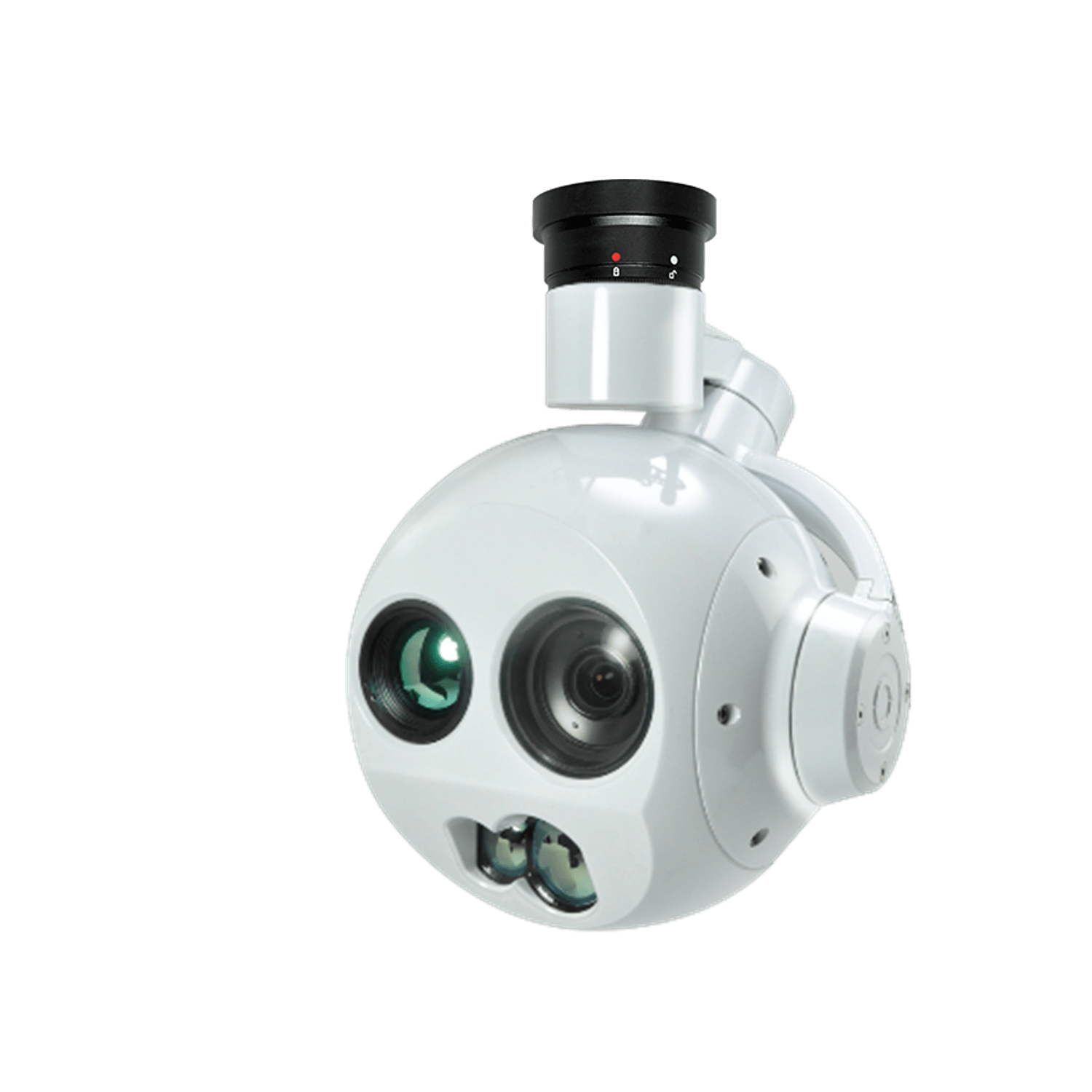 Explorer 1000 Ready to Fly
Includes:
1 x Drone Explorer 1000 V3
1 x Quick Mount Interface and Multisense HUB for Gimbal and Sensors
1 x 13ch Smart Controller with 5.5″ touch display (20km range)
1 x Drone control app and autonomous mission planning
1 x Drone control and autonomous mission planning software
1 x USB Charger for Smart Controller
1 x USB cable for Drone/PC connection
2 x 22Ah 6S 10C Semisolid Lipo Batteries
1 x 1200w Smart-Duo Charger (charges 2 drone batt. at the same time in 50′)
1 x Pellican IP67 Case for Carrying Drone and Accessories
1 x Screws and Mounting/Dismounting Tool
1 x Instruction manual in Italian
1 x 12-month warranty and remote/in-office support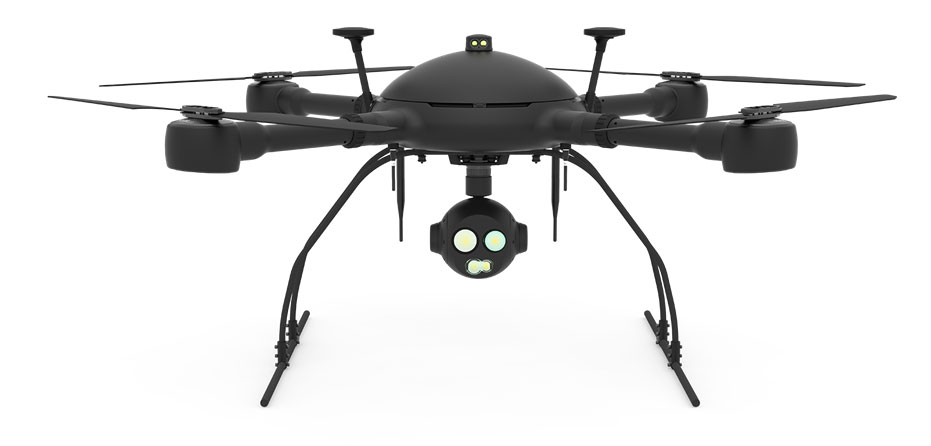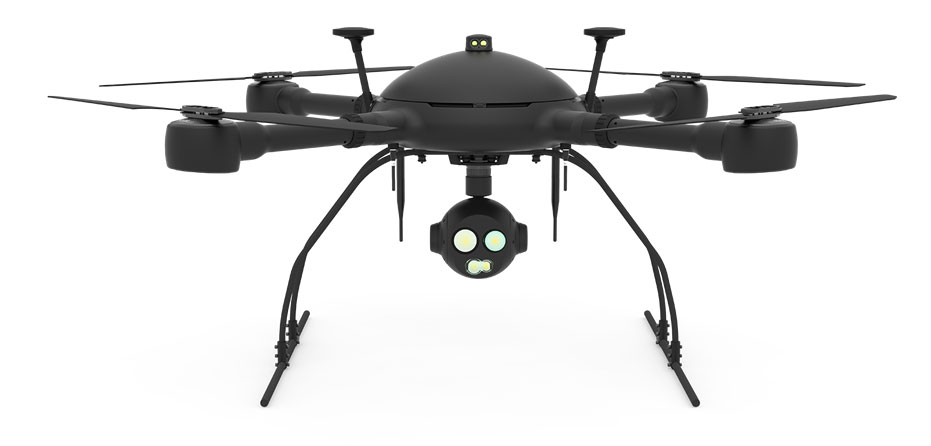 Modular Carbon Structure with Quick Mount Arms and Trolleys for Gimbal and Sensors allows Explorer 1000 focally to be carried by the IP67 waterproof Pelican Case with high-density molded sponge interior
Case Dimensions: 880x660xh483
Empty Weight: 22kg (with sponges)
Hermetic IP67
Automatic pressurization valve
6-pin safety latches
Trolley system with integrated wheels
Stackable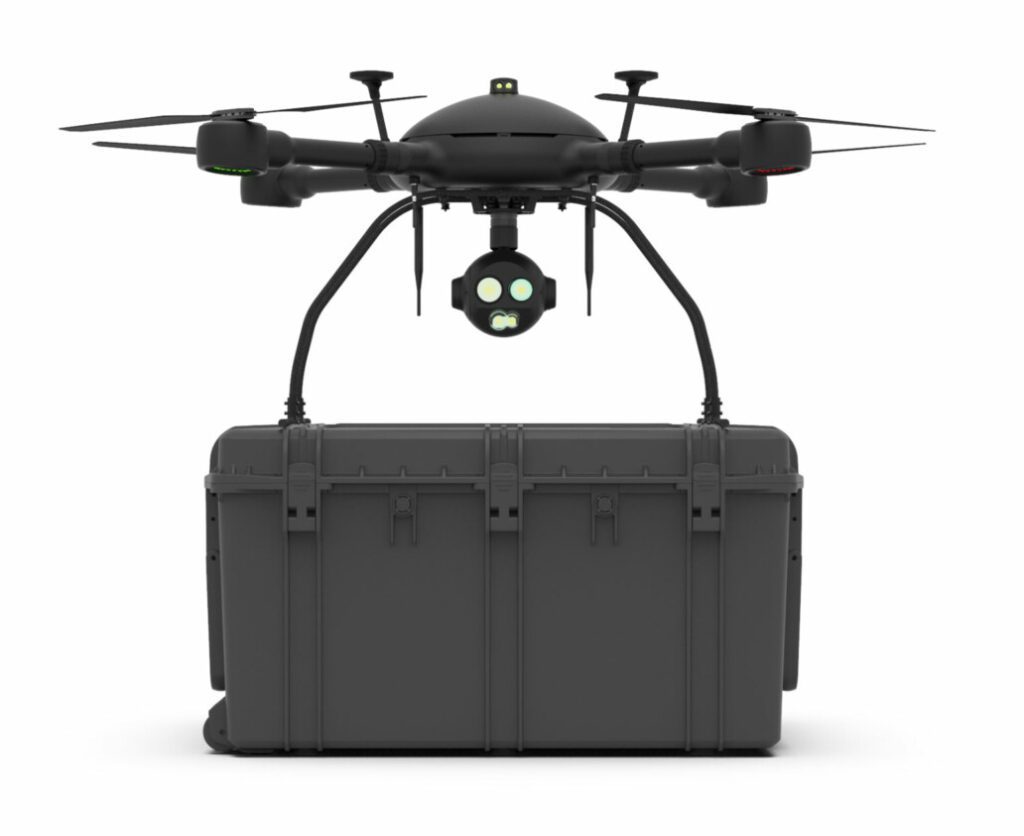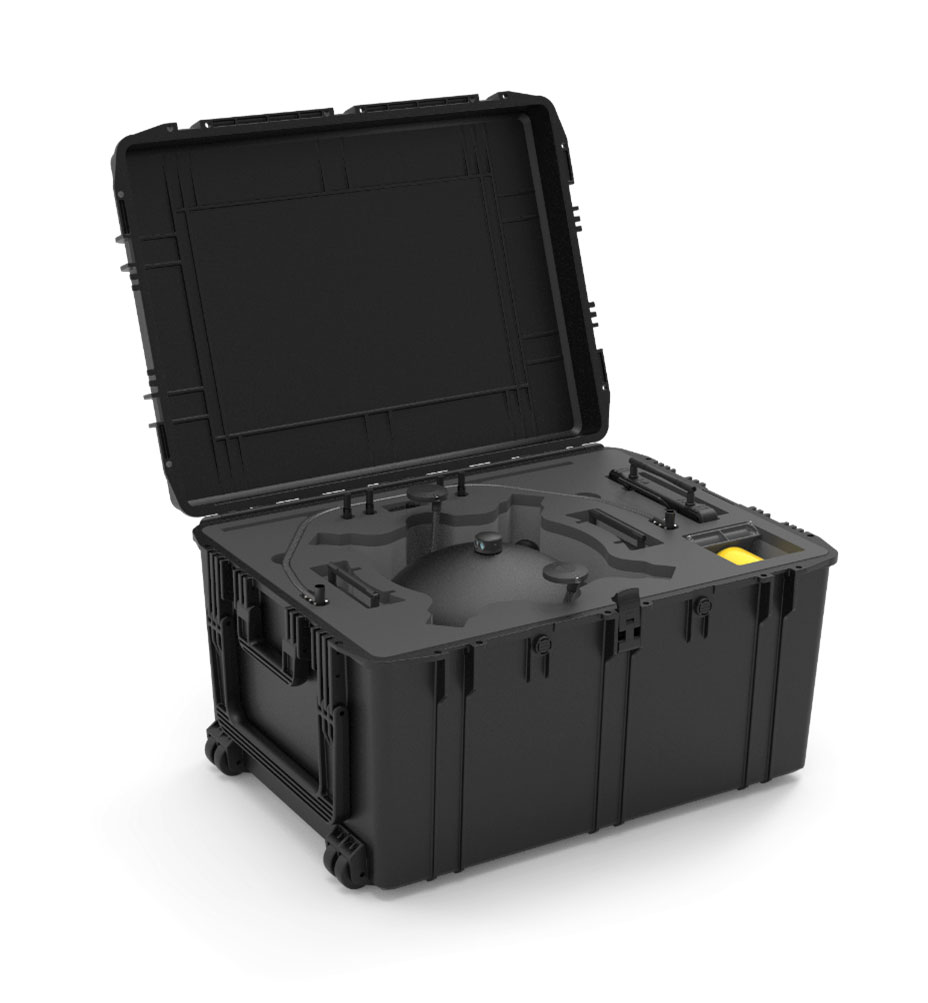 1 x Drone Explorer 1000
2 x Smart controllers
6 x LipoHV 25Ah 6S 25C Batteries
4 x spare propellers
1 x Ballistic Parachute
1 x 1200w Smart-Duo Charger
1 x Screws and assembly tool
1 x Gimbal/Sensor
1 x Miscellaneous accessories and cables
| Materiale Frame | Carbonio 3k monoscocca |
| --- | --- |
| | |
| | |
| | 1900 mm (with 28" propellers) |
| | |
| | |
| | 7.5 kg (no Payload), 3.5 kg without batteries |
| | |
| | |
| | 80' (No Payload), 65'@1kg, 50'@3kg |
| | V: ±0.5 m, O: ±1.5 m (RTK: V: ±0.1 m, O: ±0.05 m) |
| | 18 m/s - 65km/h (no wind)* |
| | Pitch: 240°/s, yaw: 100°/s* |
| | |
| | |
| | |
| | |
| | 15km (up to 50km with GCS Pro) |
| | |
| Maximum usage temperatures | |
| | |
| | |
| | 50' (2 batteries in parallel) |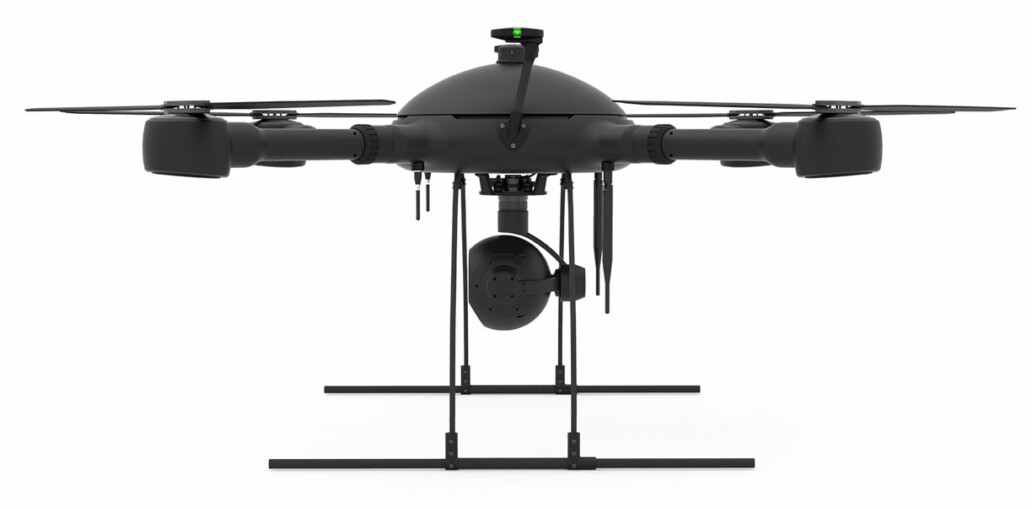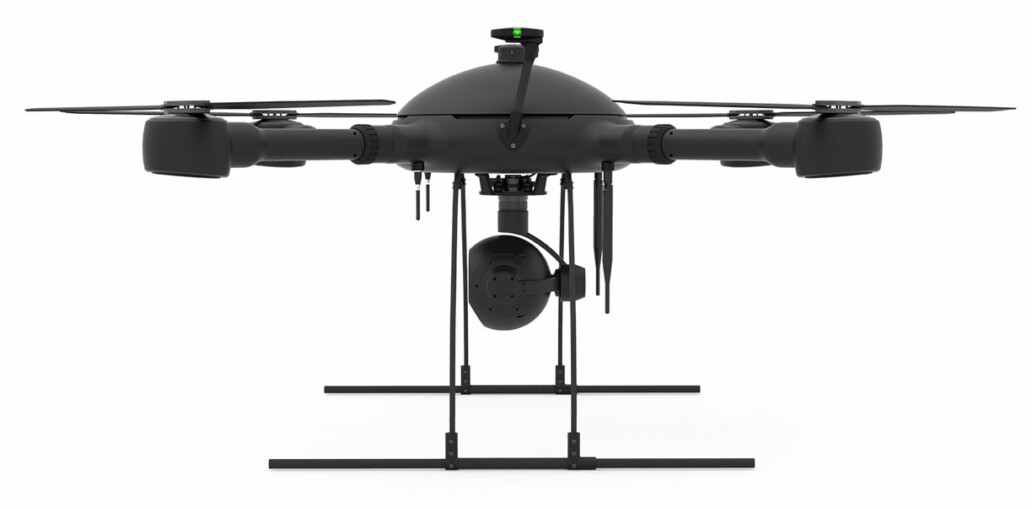 | Display | 5.5-Inch 1000cd/m2 1080p HD touch Display |
| --- | --- |
| | Android 9.0, 8-Core CPU, 2G RAM, 16G ROM |
| | 20km @1080p HD Digital Image Transmission |
| | |
| | 1080p@60fps H.264/H.265 Decoding |
| | |
| | |
| | |
| | 4G (SIM Card Slot), WiFi, Bluetooth |
| Built-in battery capacity | 10200 mAh 7.4V 2S Li-on (integrated) |
| | 2 Hours Fast Charging Type-C (PD30W) |
| | |
| | |
| | |
| | |
| Dimensions (without antennas) | |
| | |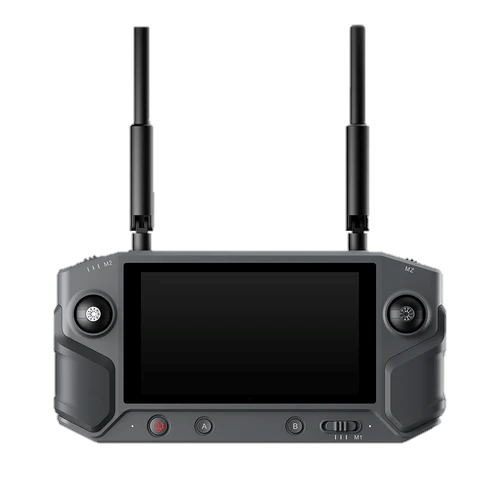 Talk to one of our Experts
DroneBase provides you with an Expert Advisor
Able to recommend the most appropriate product for your needs
And answer all your questions.
Please enter your details below, our consultant will
will contact back as soon as possible and provide you with all the details!