PROFESSIONAL DRONES FOR VIDEO SURVEILLANCE
The use of drones in public safety is a real revolution.
These tools have become essential force multipliers in the operations of law enforcement and emergency responders,
helping to save time, economic resources and even human lives.
– Ultra quiet thanks to "low noise" propellers, our drones are inaudible at 80m distance
– Long flight autonomy due to efficient motors and ultra-high density batteries
– Weather Proof, resistant to extreme weather conditions thanks to IP54 enclosures
– Long range, thanks to Mimo Mesh radio systems with ranges up to 150km
– 4G-5G micro modem for remote cloud connectivity and fleet management
– SRI systems equipped with 4K HDe cameras with up to 40X zoom. Thermal imaging cameras and laser distometers up to 5km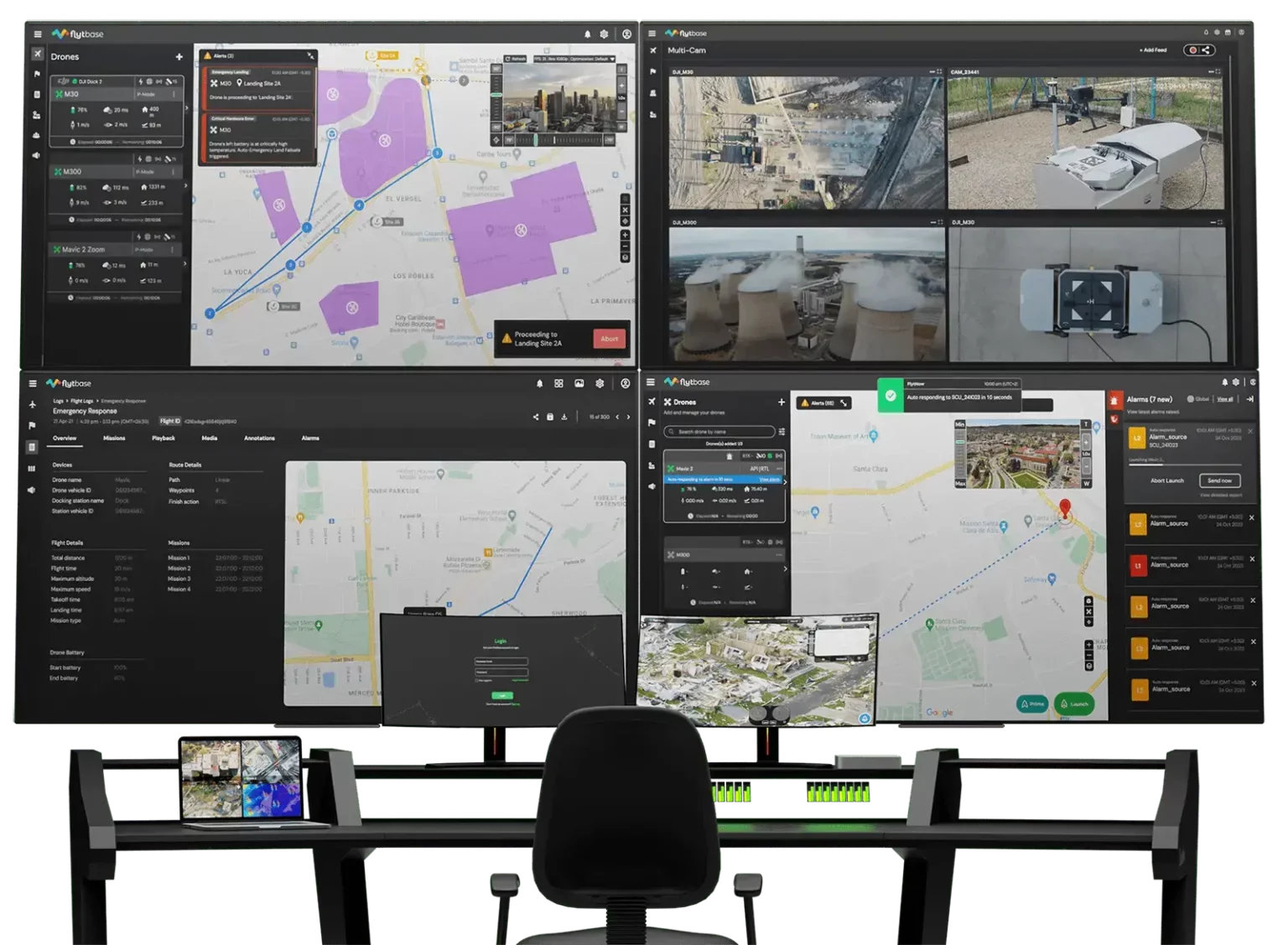 No compromise
Public safety professionals often face dangerous situations to protect the community and enforce the law.
Our drones offer a crucial advantage by providing an aerial vantage point for law enforcement agencies. These devices make it possible to explore vast operational areas with the help of artificial intelligence, all while keeping personnel safe.
The ability to capture high-resolution images from above, as well as obtain a more detailed aerial view, provides an unparalleled perspective for public safety operations. Military and Government Sector: Partners of Excellence for Security and Intelligence.
In close collaboration with military organizations, government agencies and defense contractors, DroneBase serves as a valuable force multiplier for operations, increasing personnel safety and enhancing useful data collection capabilities.
Not only Drones but Complete Video Surveillance Solutions
Our team has extensive experience in integrating drone video surveillance solutions in the context of public safety. With more than 10 years of experience in producing professional drones for the military and government sectors, we have designed solutions aimed at protecting lives, mitigating risks and reducing the liability of public institutions.
Our drones are designed for specific missions, equipped with payloads and ultra-high-performance ISR sensors that enable digitization of scenes, monitoring of public events, and tracking of People, Vehicles and Objects for more efficient and safe response. Through the integration of hardware and software analytics solutions, collected data become a key resource for assessing and improving emergency responses, reducing risk exposure and optimizing operations .
Drone video surveillance using the latest technology available
enables complete autonomous Patrolling, Autonomous Aerial Surveillance
of vast urban and suburban areas as well as coastlines by flying in a range of more than 50 km
at a maximum speed of 80Km/h.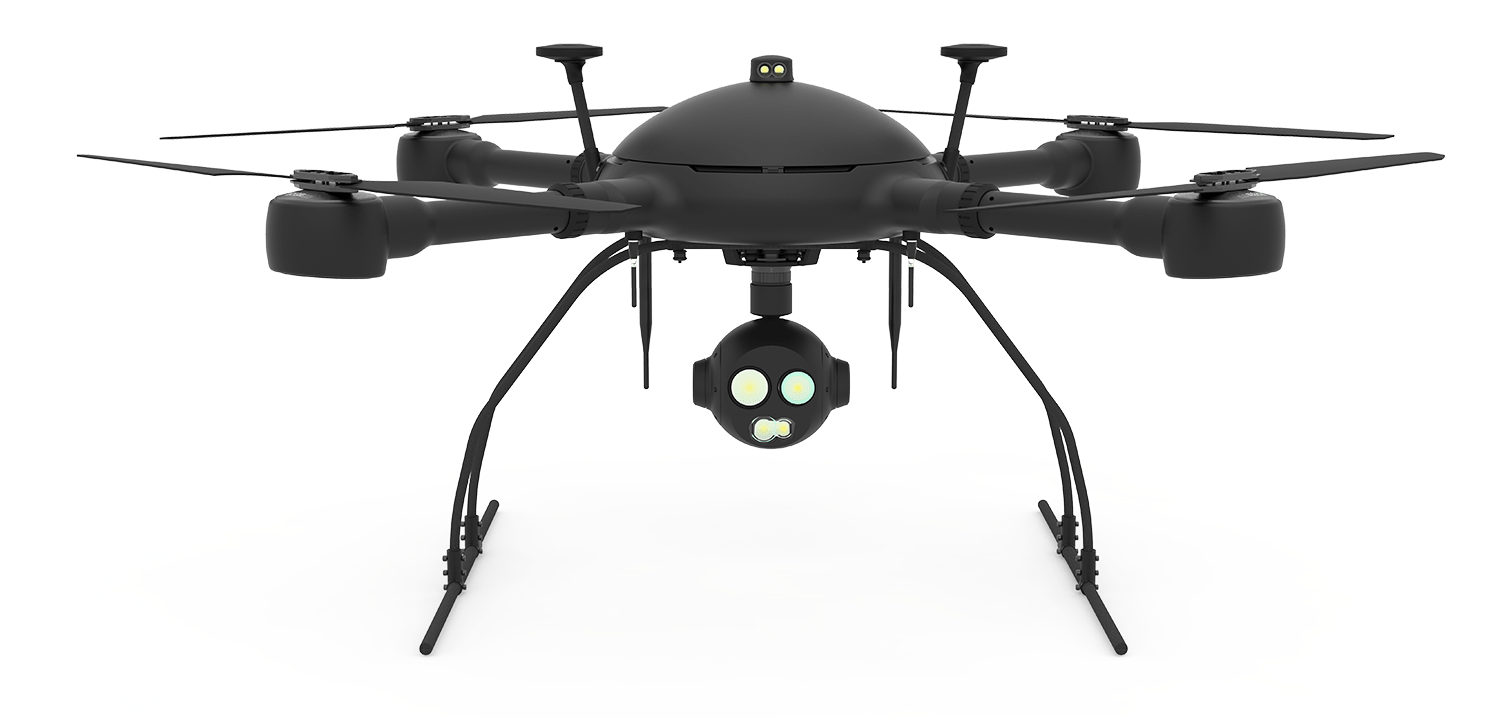 Video Surveillance Solutions with Drones
Our approach is always oriented toward customized solutions.
Our experience and manufacturing capabilities enable us to create advanced drones and technologies that
are seamlessly integrated into the military and government sphere, helping to strengthen security
and to optimize data collection and intelligence operations.
Our Systems include high-performance professional drones with advanced sensors and software.
These are integrated systems, complete with ISR Sensors (Thermal + Daylight 4K) Radio and GPS Anti-jamming systems,
Software and APPs for specific flight planning and Fleet Management.

Effective
All Video Surveillance Drones are designed to quickly monitor large areas with the utmost discretion from considerable distances.

Precise
High-resolution RGB sensors, Thermal cameras combined with laser range finders always ensure the highest level of accuracy in detection and recognition.

Safe
Difficult to access or dangerous areas will no longer be a problem with our solutions that are always ready to take off in moments, safe and reliable in all conditions

Competitive
Video surveillance with drones ensures reduced time of acquisition in the field and drastic reduction in the time of detection of suspects or risky situations.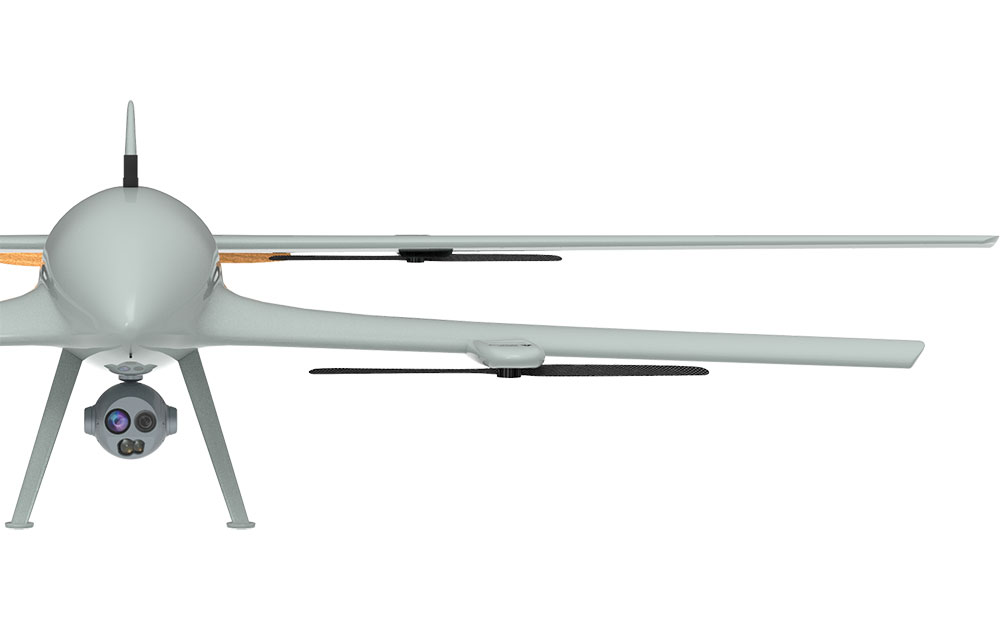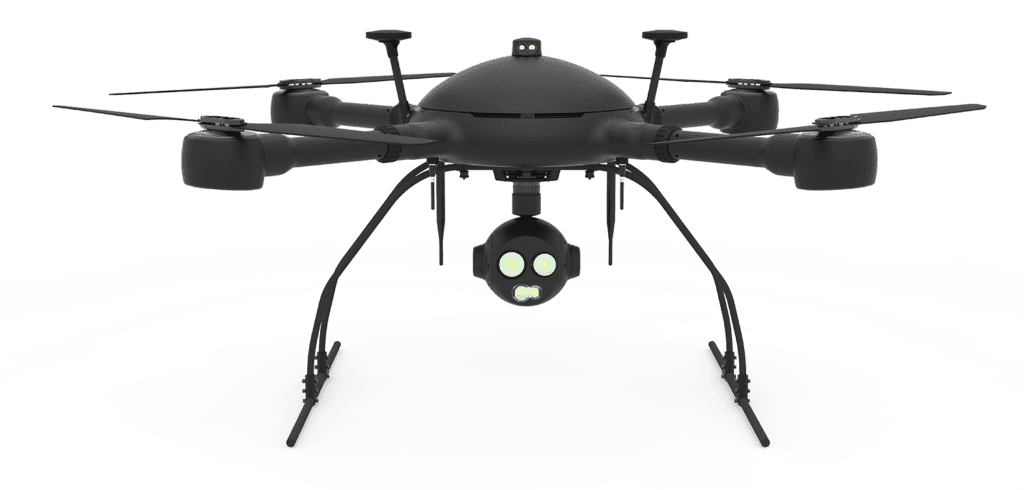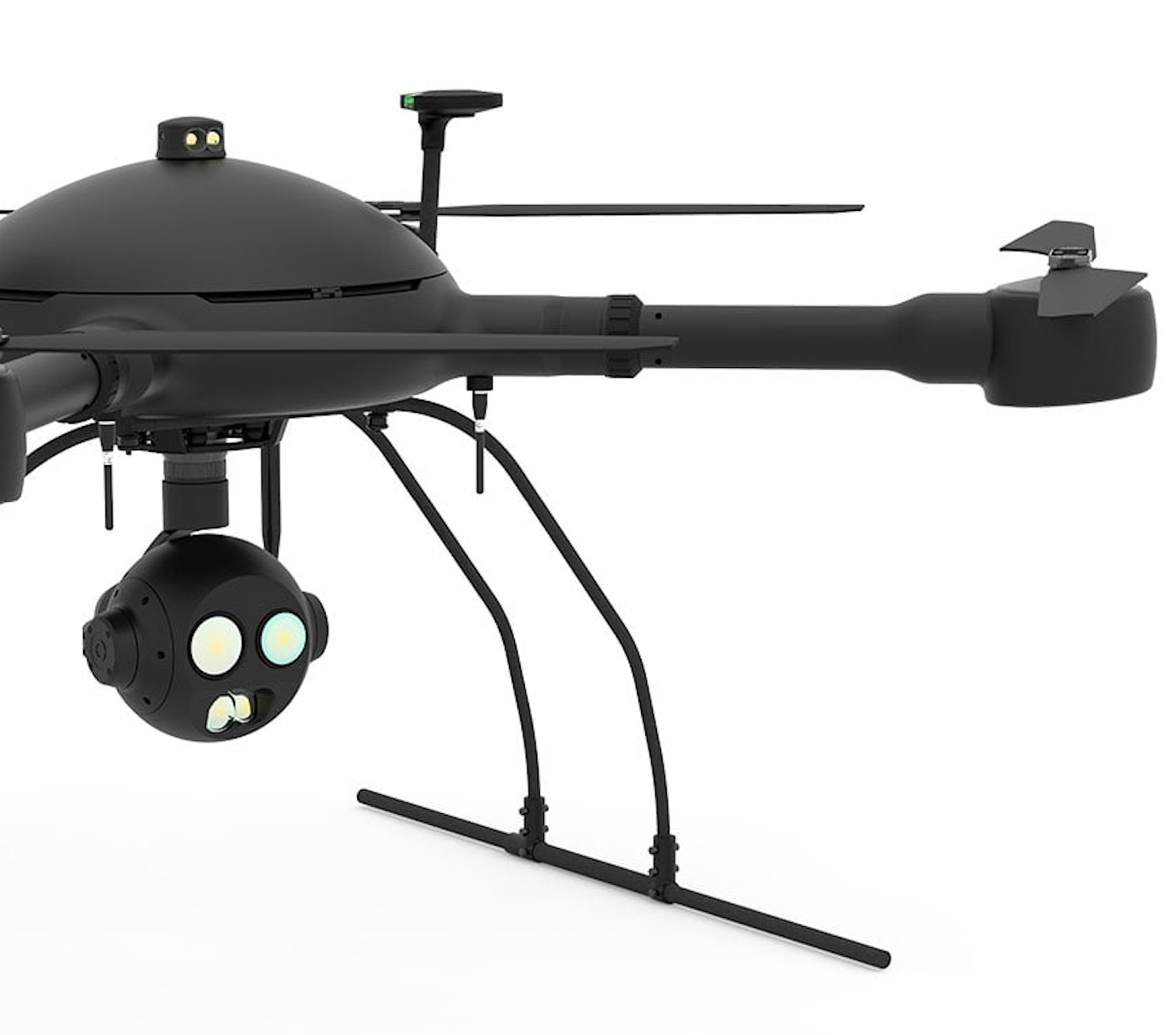 Due to the large flight capacity at the operating range of up to 50 KM
and waterproof structures capable of flying in any
weather condition, our Video Surveillance Drones.
Are the reference solution in the market for operations of:
Aerial video surveillance
Search for the missing
Emergency communication networks
Border surveillance
Coastal surveillance
Anti-piracy operations
Control of events
Event monitoring
Perimeter surveillance and monitoring
Natural disasters
and much more thanks to advanced sensors with Thermal Cameras and
Cameras Optical zoom up to 40X, georeferencing systems
Precision GPS and Optimized Flight Planning Software.
combined with artificial intelligence
Centralized drone fleet management solution for Search and Rescue Operations, Video Surveillance, Public Safety.
Imagine having to coordinate video surveillance operations or Search Missing Persons from a Remote Operations Center.
Command & Control allows you not only to stream HD Video Streaming and Drone Telemetry via 4G/5G connection, but also remote control of Drone and Payload from a remote operation center
4G/5G BVLOS Link
Centralized management of drone fleets (max 30 UAVs)
FullHD 1080p video streaming in real time
Map-based monitoring of each drone
Complete flight information with statistics
Remote control of gimbals and sensors
Remote video recording and flight logs
AES265 data encryption

Get the most out of your drone fleet with Dedicated APP
The Command & Control Mobile app acts as a link between Drone and the Ground Team that can receive Live Video from drones in flight to better assess high-risk situations.
The heart of any video surveillance drone is the sensors it carries. Intelligence, Surveillance and Reconnaissance ( ISR ) systems are multi-sensor systems(Thermal + HD/4k Zoom and laser range finder) that can monitor large areas and recognize objects and people miles away by detecting their location.
Processors embedded in our AI-based ISR systems candetect and track static and moving objects, recognize objects, faces, and read license plates or alphanumeric writing.
The Quick-Mount interface and Plug & Play Hub allow rapid payload exchange according to operational needs.
Discover the wide range of ISR Sensors for video surveillance
and search for the missing.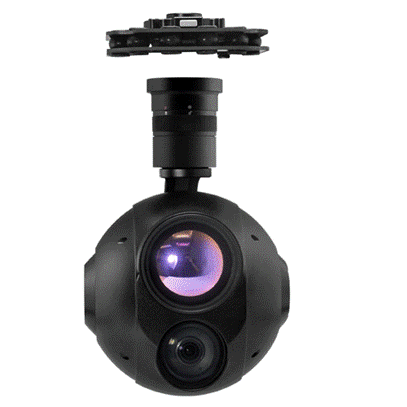 | DRI VALUE | IR 640 50mm | ZOOM 40X |
| --- | --- | --- |
| | | |
| Recognition (Male: 1.8×0.5m) | | |
| Face Identification (Male: 1.8×0.5m) | | |
| | | |
| Recognition (Auto: 4.2×1.8m) | | |
| License Plate Identification (Car: 4.2×1.8m) | | |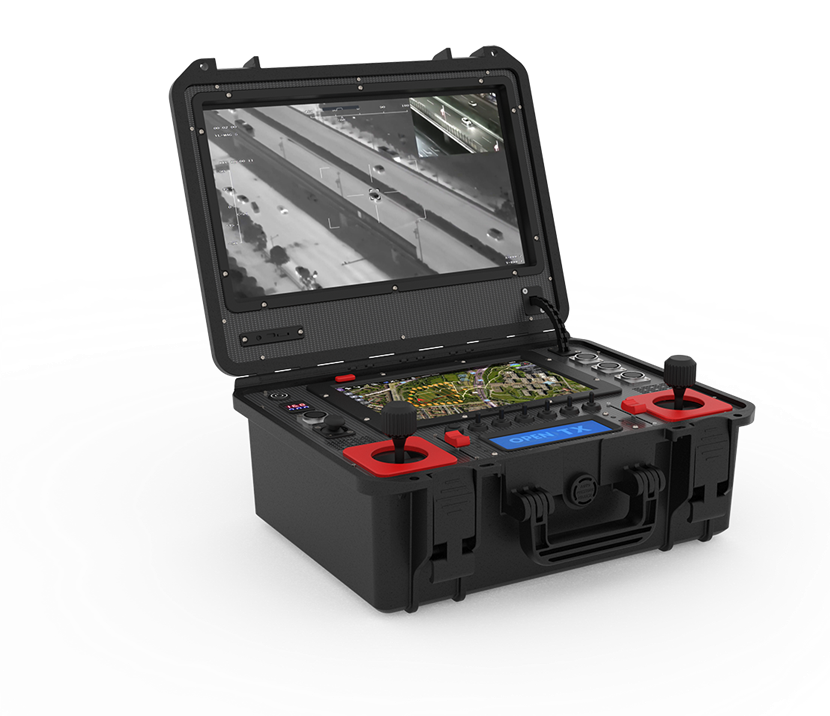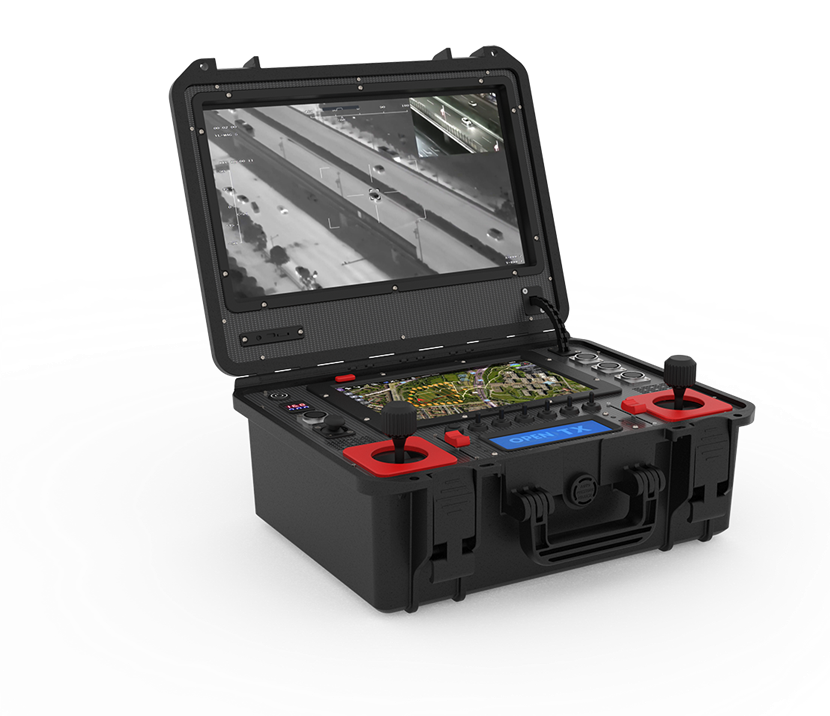 Ground Control station Pro V2 was created for the most extreme operational needs. Encased in a rugged IP67 watertight case, GCS PRO V2 integrates the most advanced technology available on the market combined with unrivaled user ergonomics.
15″ Monitor and 10″ Multi-Touch Display,Large ultra-precise control sticks, Easily identifiable Keys and Switches facilitate use in the field in the most extreme conditions, thanks also to the 12-hour continuous use time.
Main functions
Up to 50km transmission range (with Mimo Mesh technology)
Frequencies 2.4ghz, 5ghz, 1.4ghz, custom
AES256 Encrypted Signals
15″ IPS monitor 1000 cd/m2
10″ Multitouch display for drone management
16 direct control channels for gimbals and sensors
4-axis control joystick
FullHD 1080p and 4K video signal – H264/H265
180ms maximum latency
4G/5G ready
Android 9.0 inside
Up to 12 hours of usage time
Fast charging (3 hours)
Talk to one of our Experts
DroneBase provides you with an Expert Advisor
Able to recommend the most appropriate product for your needs
And answer all your questions.
Please enter your details below, our consultant will
will contact back as soon as possible and provide you with all the details!