THE UNIVERSAL DOCK STATION FOR DRONES
Robust, Reliable and Operational 24/7 in every
environmental condition.
Schedule your calendar missions and monitor them
remotely from the cloud-based operations center.

FLY MORE, DO EVERYTHING - IN ANY WEATHER
Day or night, in sunshine or in rain
DBase is a portable drone dock station that can be installed in any environment under the most extreme environmental conditions.
With its IP54 protection and built-in heat pump, DBase houses the Drone at a temperature controlled
Keeping it charged and ready for the next mission.
transmission
data + video
Integrated multi-role solution
Manual operations are inefficient and time and resource consuming.
Drone-in-a-Box technology combined cloud management software,
offer a drastic reduction in time and costs by increasing the
ROI significantly.
Experts can monitor and supervise from the operations center
Multiple operations simultaneously respond quickly and efficiently
to emergency situations.
DBase provides tight integration between drones and dock stations through
Software could be efficient and customizable for specific needs of each application
Compatible with: DJI Mavic 2/3
Dimension: 1200*950*380 mm
Weight: 70kg
IP Protection: IP55
Material: Aluminum Alloy
Voltage: 24VDC
Power: 120W
Operating temperature: -25°c ~55°c
Drone battery charging time: 40min (DJI Mavic 3)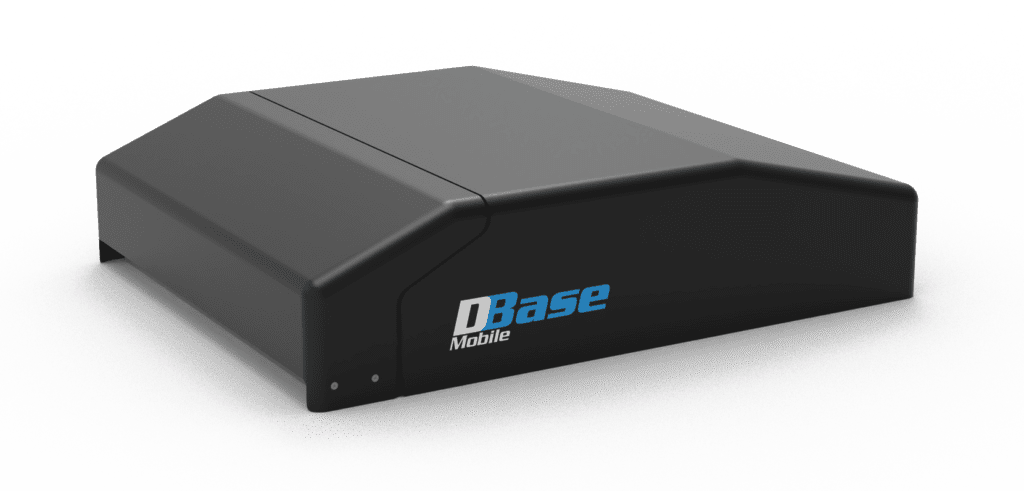 Total control Dock + Drone from Flytnow cloud platform
Autonomous takeoff and landing with Precision Landing
Automatic drone battery recharge with contact system
Video Streaming + Ultra Low Latency Data
Lan/Wifi and 4G/5G connectivity*
Temperature controlled with integrated AC/heat pump
Integrated IP camera for remote control dock
External spotlights to illuminate Dock during night use
SELECTS THE MOST SUITABLE SENSOR FOR THE TWO NEEDS
No limits of use to our drones thanks to the plug & play HUB ready for any sensor specially designed for Thermography, Aerophotogrammetry, Precision Agriculture and Environmental Monitoring applications.
40′ flight range
Range 8km from base
IP-NS Protection
Anti-collision sensors
Photos up to 48mp
Video: 4k
Zoom: 8X digital
Thermal camera: 640x512p
Laser range finder: NA
Maximum speed 75km/h
40′ flight range
Range 8km from base
IP55 protection
Anti-collision sensors
Photo 48mp
Video: 4k
Zoom: 16X optical
Thermal camera: 640x512p
Laser range finder: yes, 1200mt
Maximum speed 82km/h
Flytnow Auto is the cloud software platform designed for businesses that can manage every function of DBase and Drone.
Plan missions, schedule calendar operations on specific days and times,
Create and edit flight routes and manage collected data wherever you are.
Dock & Drone Fleet Management
From a single Cloud Software platform!
The 4 key elements of using a drone dock station
FLYTNOW
A cloud dashboard that enables remote drone control, mission planning, and ultra-low latency HD video streaming over 4G/5G.
EDGE KIT
Complementary computers fully integrated into the system that enable easy communication between drone, Dock and cloud platform.
PRECISION LANDING
With computer vision, landing maneuvers can be managed precisely and automatically using ArUco Tag.
DOCKING STATION
Remotely control open/close dock, view telemetry, enable/disable drone charging from cloud interface
A Solid, 100% Integrated Cloud Platform
A fully automated system operated from a remote operations center
That allows you to simplify complex operations in BVLOS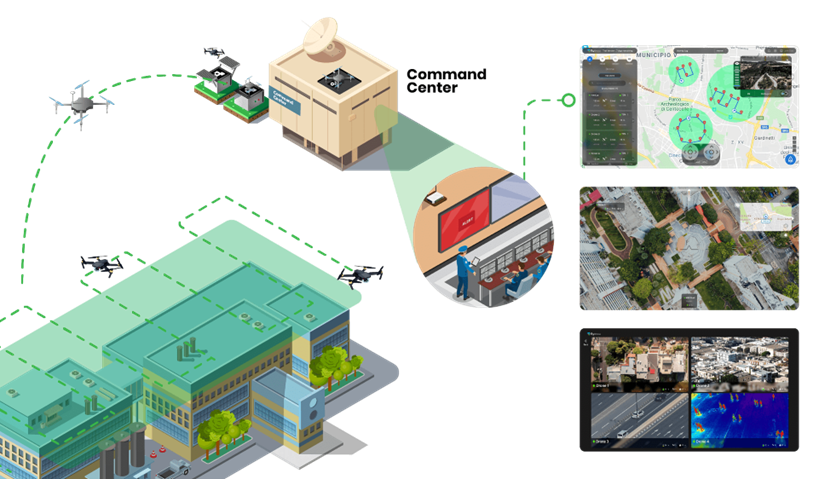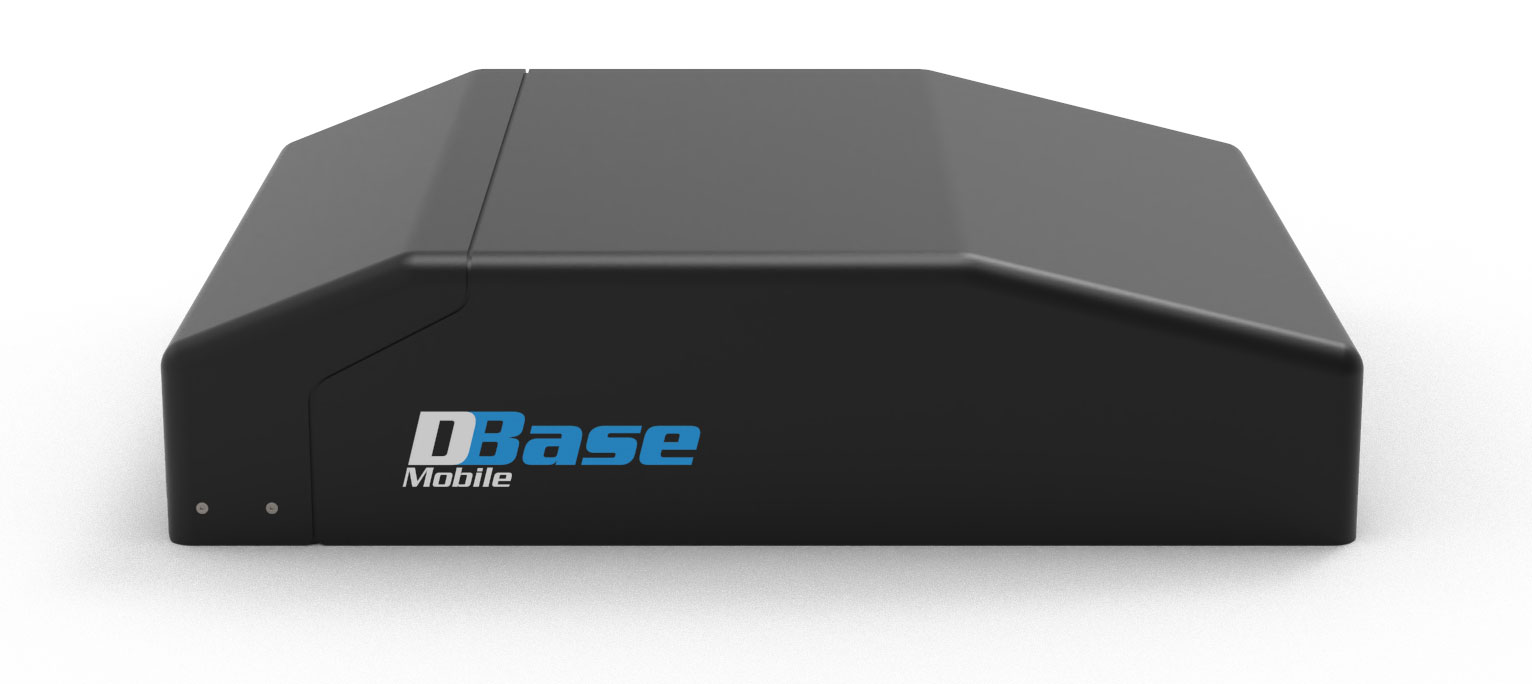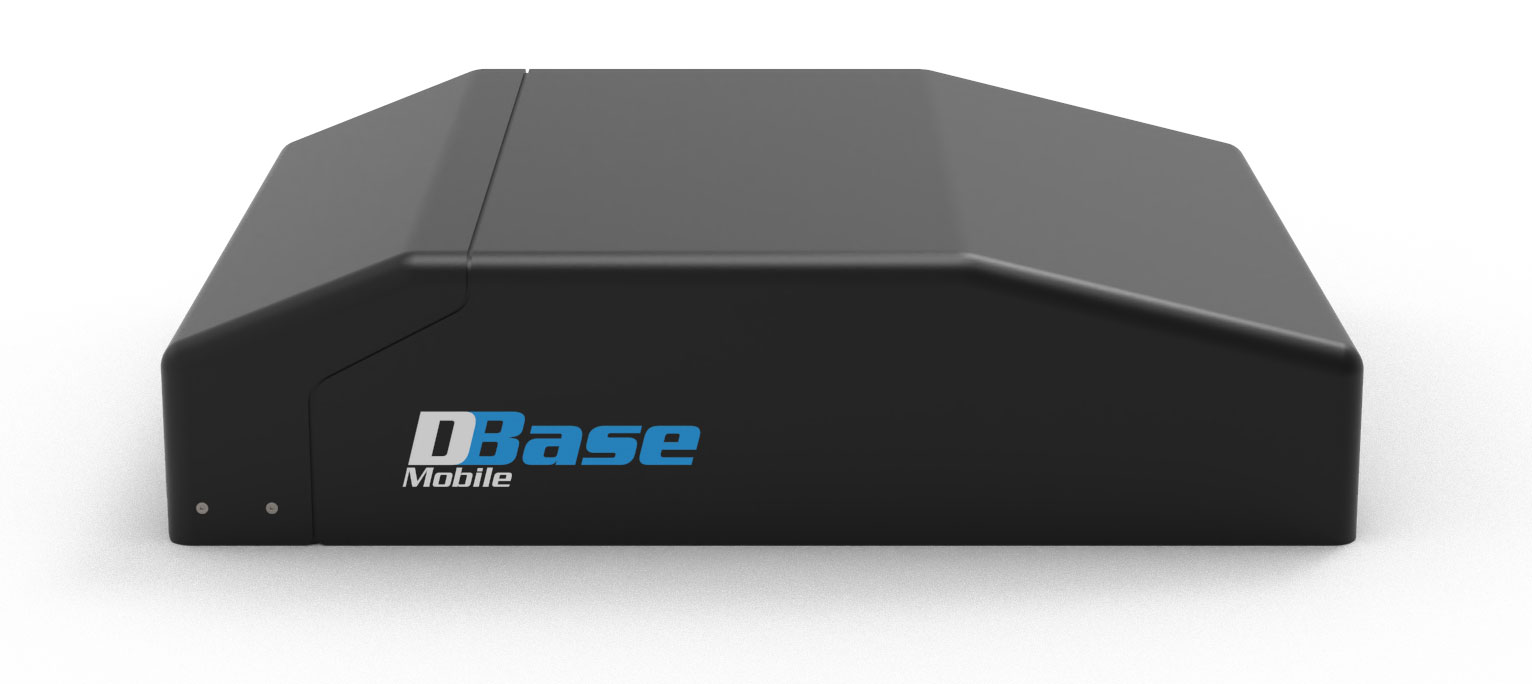 Autonomous Missions
Plan, Schedule and Monitor your missions in real time from the remote operations center
Precision Landing
Centimeter-precision landing with Visio AI computer aid via drone camera
Remote Control of the Dock Station
Total remote control of the dock station with temperature monitoring, battery charging, opening and closing of the box.

Automatic Data Acquisition Eliminates manual data collection at the site. Deploy automatic drone Dock Stations for routine operations. View, Record and Share Data and Video

Increased efficiency Remove blind spots and guard hard-to-reach areas. Detects faults in real time to reduce maintenance costs and prevent frequent shutdowns.

Speed of response and action Sends autonomous drones to a specific location in response to an alarm. Increase site and personnel safety with autonomous drones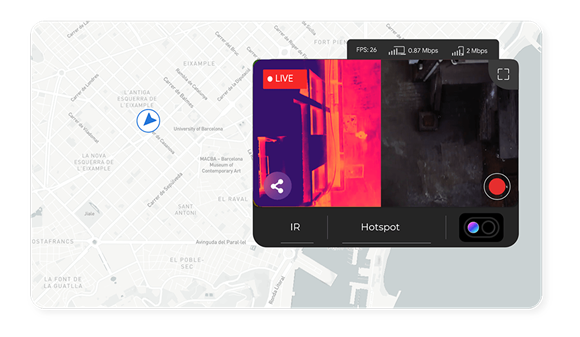 Total awareness in real time
Get instant video updates to stay in the know. Detect malfunctions in advance. Improves decision making and eliminates operational delays.
Real-time HD video streaming with ultra-low latency
Management of thermal imaging cameras and third-party sensors
Records and archives captured video data
Secure video and telemetry sharing
Plan and Schedule Automated Missions
Deploy and monitor multiple drones simultaneously. It eliminates human error. Conduct repeatable missions with minimal human intervention.
Manage a hybrid fleet of drones
Perform multiple waypoint missions
Configure the actions of individual waypoints
Schedule routine calendar missions
Retrieve and view previous mission logs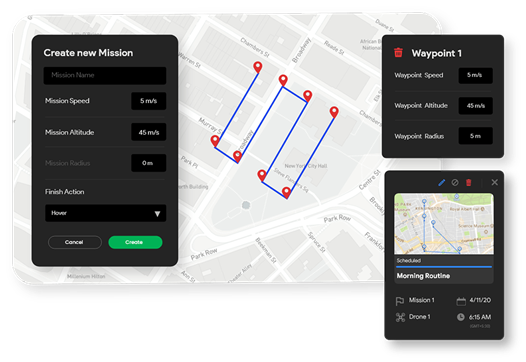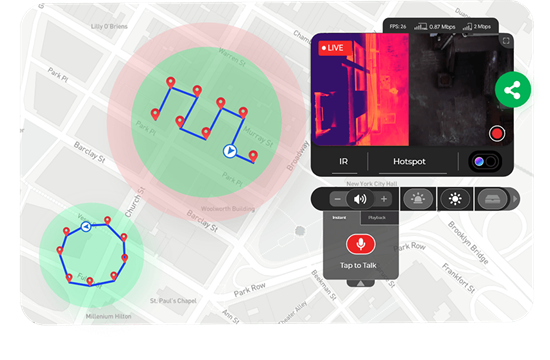 Rapid response to incidents
Send your drones to the affected site to increase staff safety. Control the drone and payload remotely with an on-screen joypad, keyboard, or joystick.
Send drones to specified GPS coordinates on request
Set advanced geofences to demarcate no-fly zones
Transmit audio messages through the drone speaker
Improves visibility at night through integrated spotlights
Configure multiple security devices to improve drone security
The Precision Landing module uses computer vision technology
To align and land your drone on the dock in a way that
self-contained.
Get 99.99% reliability for drone landings
Perform accurate and autonomous landings by day and night
Eliminates the use of additional hardware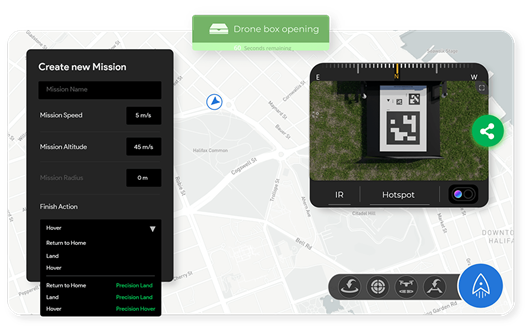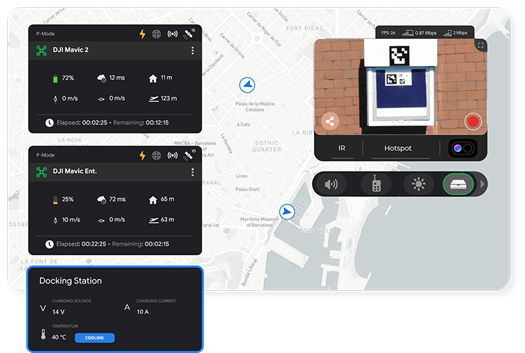 Total control of the dock station
FlytBase enables complete automation and remote management of the dock station and all its peripherals such as Weather stations, cameras and more. You can integrate your drone fleet with our dock stations using 5G technology thanks to the radio modems* built into the dock.
Activates remote open/close and recharge actions
Displays the battery charge status
Integrates fixed cameras to monitor the dock
Displays real-time data transmitted from the on-board weather station
Leverage weather data to perform pre-flight checks

Weight
70kg
Closed size
120cm×95cm×35cm (L×W×H)
Input voltage
24 VDC
Power
120 W MAX
Working temperature
-20~55°C
IP rate
IP55
Contained drone
1 drone
Materials
Aluminum, stainless steel, glass fiber
Charging time
40 minutes to fully charge Mavic3 from 0
Internet
4G/5G
Sensors
Water level/ temperature and humidity inside the dock
Monitoring camera inside drone dock
Resolution ratio: 1920*1080P
Field of view (FOV): 150°
Extension ability
Protocol: SDK Modbus
Lifespan
5,000 hours
Charging protection
Anti-reverse, over-current, and overvoltage protection
Compatible drones
2s-14s LiPo battery-powered drones
Such as DJI M30, M300, Mini, Mavic, Air, Skydio, Autel, Fimi, and Parrot
Talk to one of our Experts
DroneBase provides you with an Expert Advisor
Able to recommend the most appropriate product for your needs
And answer all your questions.
Please enter your details below, our consultant will
will contact back as soon as possible and provide you with all the details!