AGRICULTURE CAMERA FOR DRONES
Micasense RedEdge-P drone thermal camera, the smallest and most compact thermal camera designed for drones on the market today. Remote control and live video output + dedicated configuration app.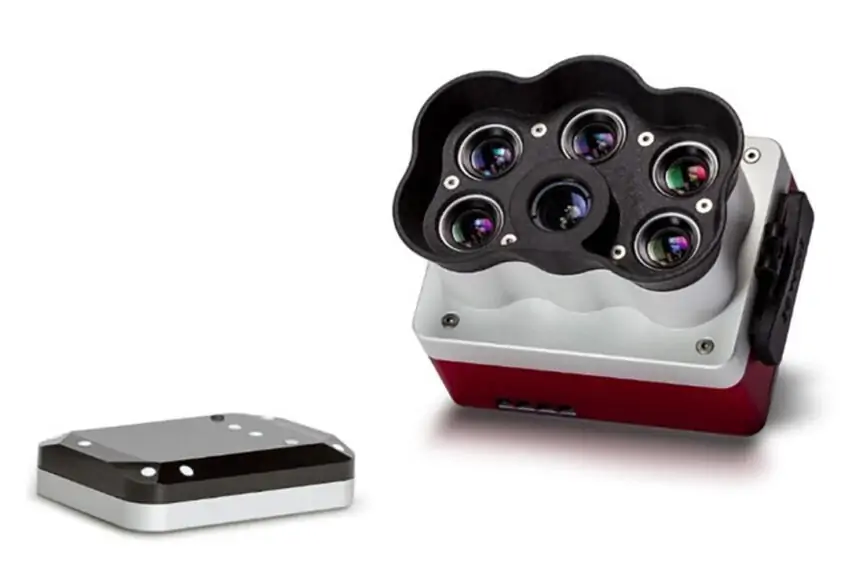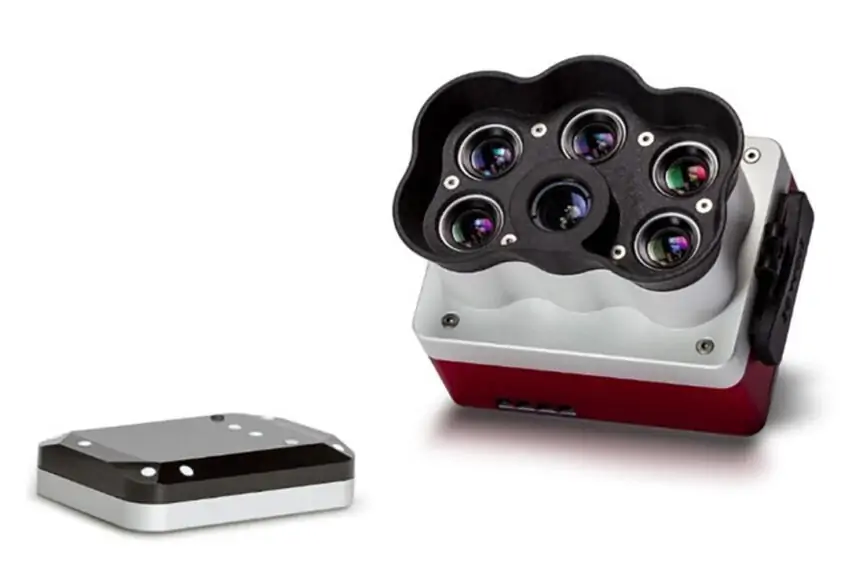 Orthomosiac (3.26GB)
Fully processed orthomosaic captured in October 2021 in the Pacific Northwest over a pumpkin farm.
The pan-sharpened GSD of the flight is 2cm per pixel.
Note that the output format is GeoTiff and is intended to be viewed using GIS software (QGIS , ArcPro, ArcMap…).
RedEdge-P Sensor Specifications
Weight

350 g (12.3 oz.) (RedEdge-P + DLS 2)

8.9 x 7.0 x 6.7 cm
(3.5in x 2.8in x 2.6in)

5.5/7.0/10W (standby, average, peak)

Blue, green, red, red edge, near-IR
(global shutter, narrowband)

Blue (475 nm center, 32 nm bandwidth),
green (560 nm center, 27 nm bandwidth),
red (668 nm center, 14 nm bandwidth),
red edge (717 nm center, 12 nm bandwidth),
near-IR (842 nm center, 57 nm bandwidth)

5.1 MP (global shutter, aligned with all bands)
*with appropriate post-processing

1456 x 1088 (1.6MP per MS band)
2464 x 2056 (5.1MP panchromatic band)

Ground Sample Distance (GSD):

7.7 cm per pixel (per MS band) at 120m (~400 ft) AGL
3.98 cm per pixel (panchromatic band) at 120m (~400 ft) AGL

Up to 3 captures per second raw DNG

3 configurable GPIO: select from trigger input, PPS input, PPS output, and top of frame signals. Host virtual button. USB 2.0 port for WiFi. Serial. 10/100/1000 Ethernet. CF Express for storage

50° HFOV x 38° VFOV (MS)
44° HFOV x 38° VFOV (PAN)
Talk to one of our Experts
DroneBase provides you with an Expert Advisor
Able to recommend the most appropriate product for your needs
And answer all your questions.
Please enter your details below, our consultant will
will contact back as soon as possible and provide you with all the details!